Long have I heard the tales of conquest beyond the American border to the north. Rumors of granite cracks stretching to the sky and beyond. I speak of course of the legendary Squamish. Land of bullet hard granite, soaring cliffs, and soft grades. Many climbers though, are not aware that Squamish is also home to a world class kiteboarding scene. The spit is famous among elite kiters for its flat water, steady wind, and stressful launch. Squamish is the only place I've ever kited where you have to pay to kite, so you might consider it the Gunks of kiting in that respect.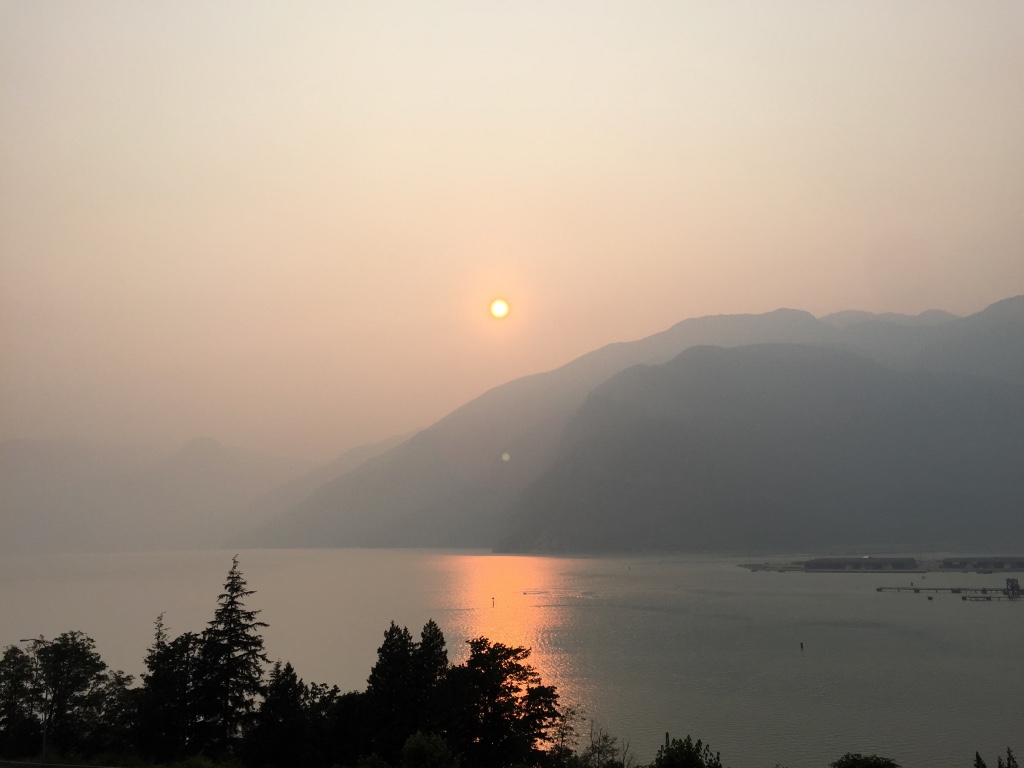 A smoky day due to local forest fires.
The Climbing
Kellie and I spent the entire month of August in Squamish. We climbed almost every morning and kited almost every afternoon, for the entire month. I've never been so fit in my life as when we returned from from Canada! The climbing and kiting are so good, it's like eating Red Velvet Oreos for breakfast lunch and dinner every day. You just can't get enough. Here's my Squamish send list for reference.
The Grand Wall (Adam): 8 pitches, 5.11a
Sunset Strip (Adam): 12 pitches, 5.10d
Angel's Crest (Kellie): 13 pitches, 5.10c variation
Rock On-The Ultimate Everything linkup (Adam): 15 pitches, 5.10b
Calculus Direct-St Vitus' Dance-Karen's Math-Memorial Crack-Squamish Buttress linkup (Adam): 15 pitches, 5.10c
The Great Game (Kellie): 4 pitches, 5.10d
Bullethead East (Kellie): 4 pitches, 5.10c
Hairpin (Adam & Kellie): 5 pitches, 5.10a
Token Brits Direct (Kellie): 5.10d
Popeye and the Raven (Kellie): 5.10c
Supervalue (Kellie): 5.10b
Rainy Day Dream Away (Kellie): 5.10c
Exasperator (Kellie): 2 pitches, 5.10c
Apron Strings (Kellie): 2 pitches, 5.10b
A Pitch in Time (Kellie): 5.10b
Arrowroot (Kellie): 5.10b
Center Street (Kellie): 5.10c
The Smoke Bluff Connection (Kellie): 4 pitches, 5.10b
Neat and Cool (Kellie): 5.10a
Flying Circus (Kellie): 5.10a
Penny Lane (Kellie): 5.9
Quarryman (Kellie): 5.8
Skywalker (Adam & Kellie): 5 pitches, 5.8
Burgers and Fries (Kellie): 5.7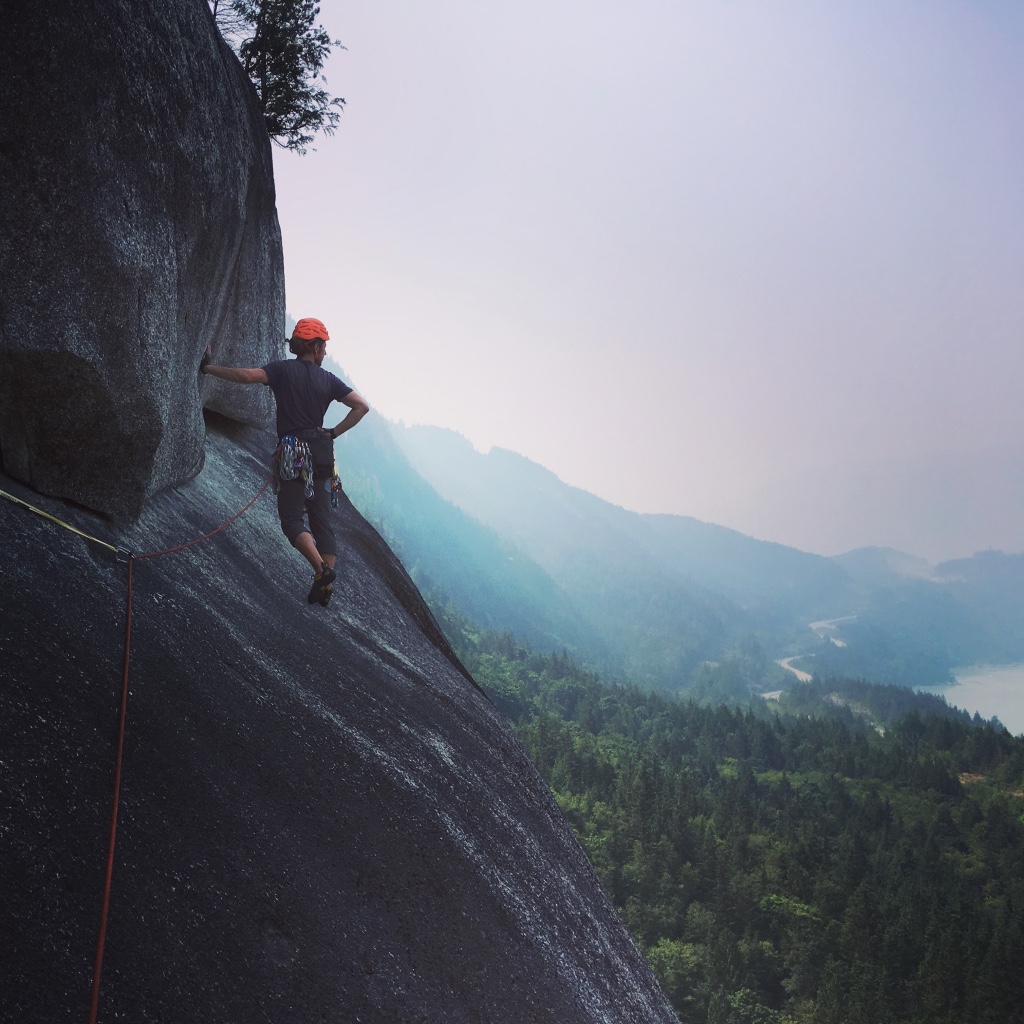 The money pitch of Skywalker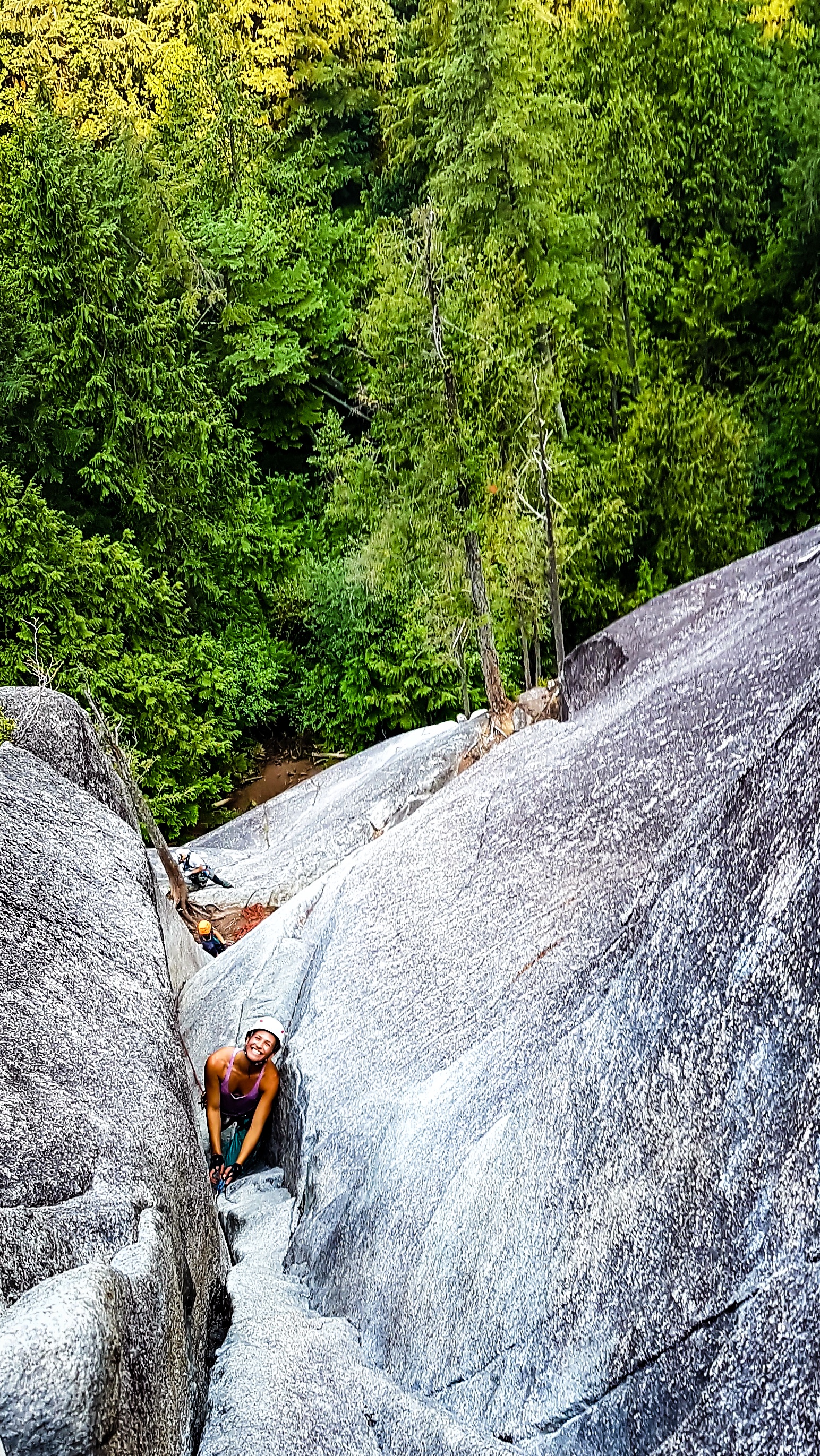 Kellie leading another awesome pitch on Hairpin
If I were to make another list, a list of my favorite climbs on the planet, it would look pretty similar. Most of these routes in this list are in the Squamish top 100, with the notable exception of Sunset Strip, which is one of the best routes I've done all year. If you're up to the challenge, don't miss this fantastic line. The pitches are short, engaging, and the two cruxes (5.10d) are bolted. Don't underestimate the chimney on the last pitch (5.9) though, many people struggle here.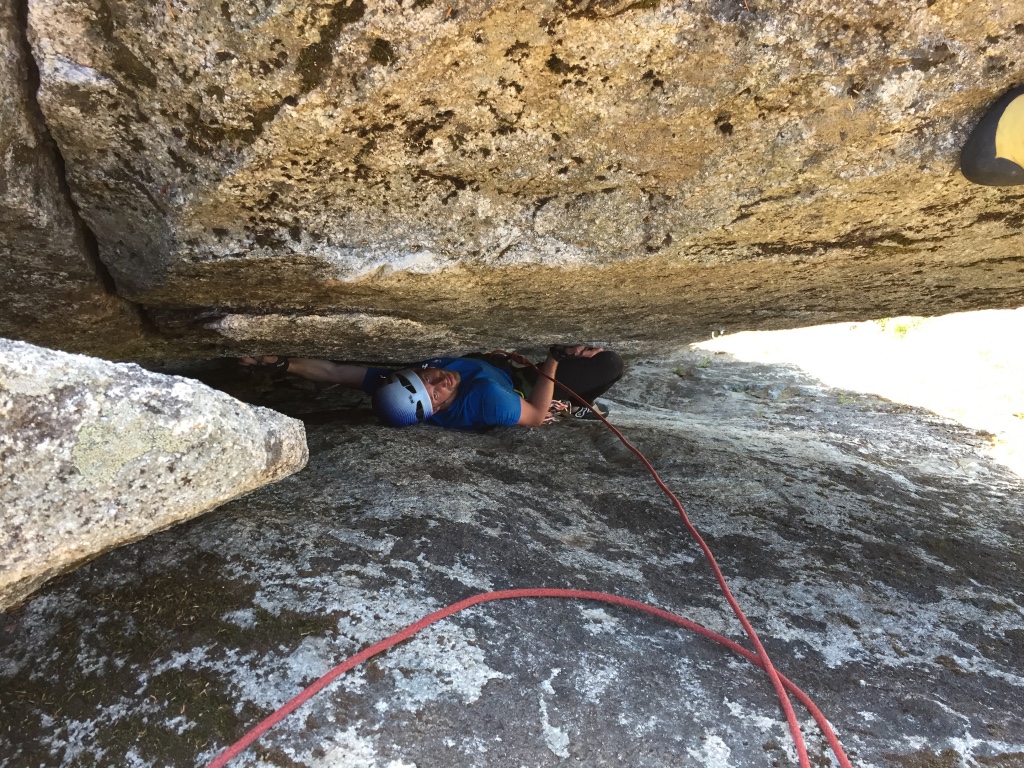 Adam contemplates ultimate suffering on the last pitch of Sunset Strip
Despite having on-sighted The Grand Wall, I didn't think it lived up to all the hype. It's certainly an impressive looking line from the ground, but I found the climbing to be just okay. Two throw away pitches on Merci Me (5.8) get to the base of the route. The next pitch is a short (mostly bolted) 5.10b traverse, which brings you to the base of The Split Pillar (5.10b). The Split Pillar pitch is fantastic, no doubt, but I found The Sword pitch above (5.11a) a bit of a let down. There are aid ladders on both the traverse pitch and The Sword, which really take away from the aesthetics of the line. Of course you could free the ladders at 5.13a, but even then the two-inch-thick boat rope hanging down the route would likely prevent a send…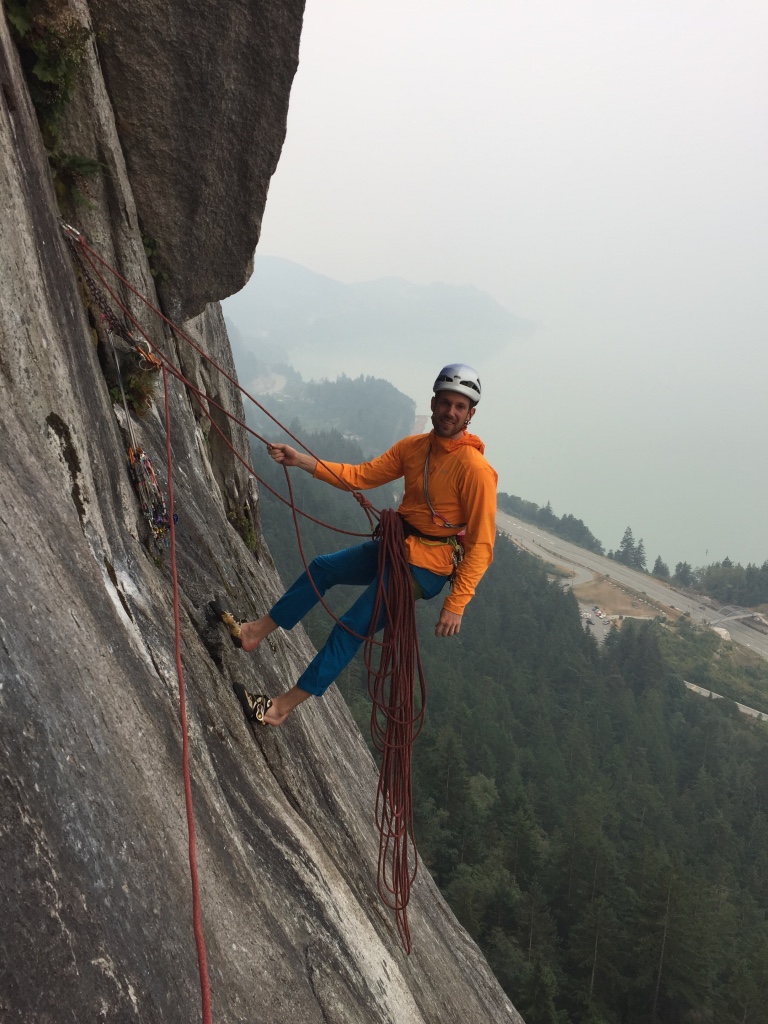 Adam hanging out on The Grand Wall
Disclaimer: I'm probably nitpicking, it's just that the bar is set so high at Squamish. I'll say this though, as a climber your life will not be complete without at least doing the highlighted routes above. I wouldn't recommend Burgers and Fries (horrifying slab runout at the top) and Popeye and the Raven (one scary move at the top with ledge fall potential). The other non-highlighted routes are good, but not 'must-dos', despite the fact that some of them are top 100s.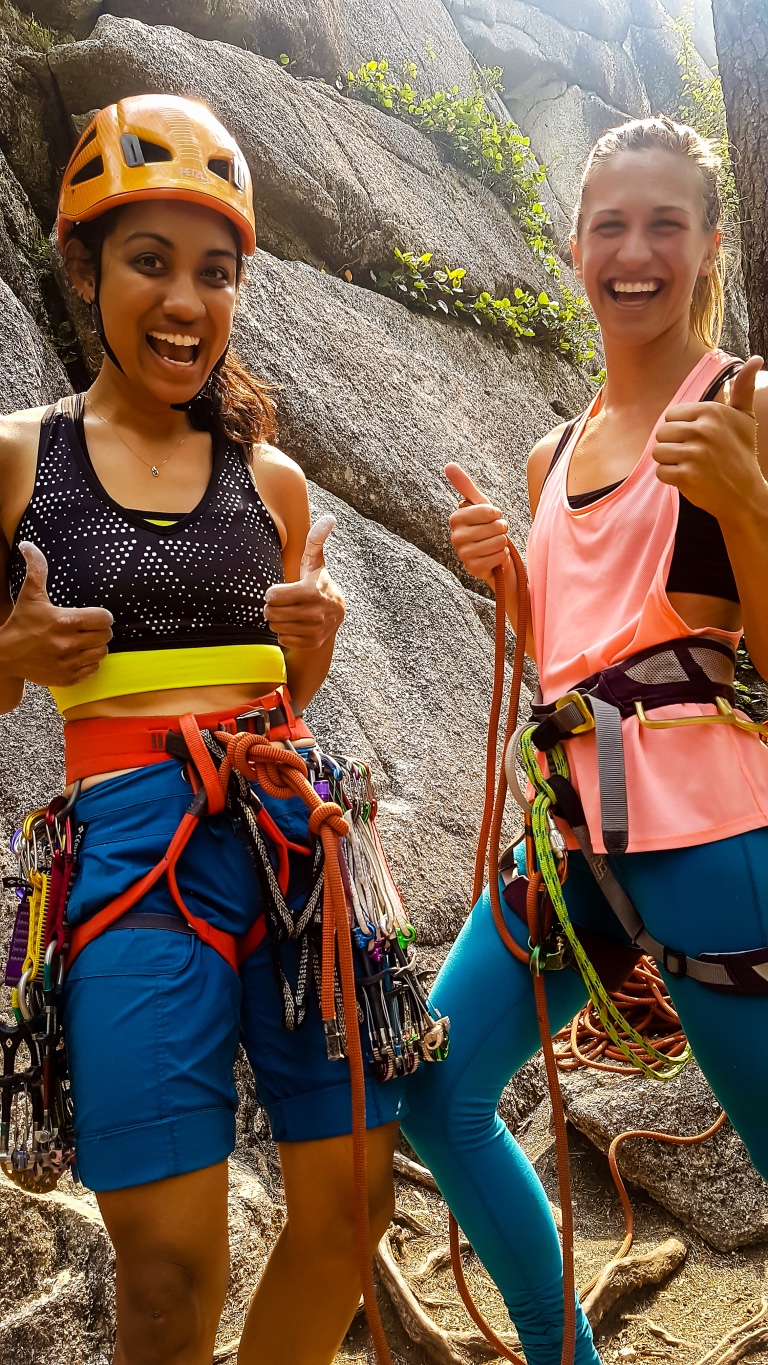 Get your climb on!
The Kiting
Ok, this is the part where the climbers lose interest. So if you're not a kiter, just look at the pretty pictures.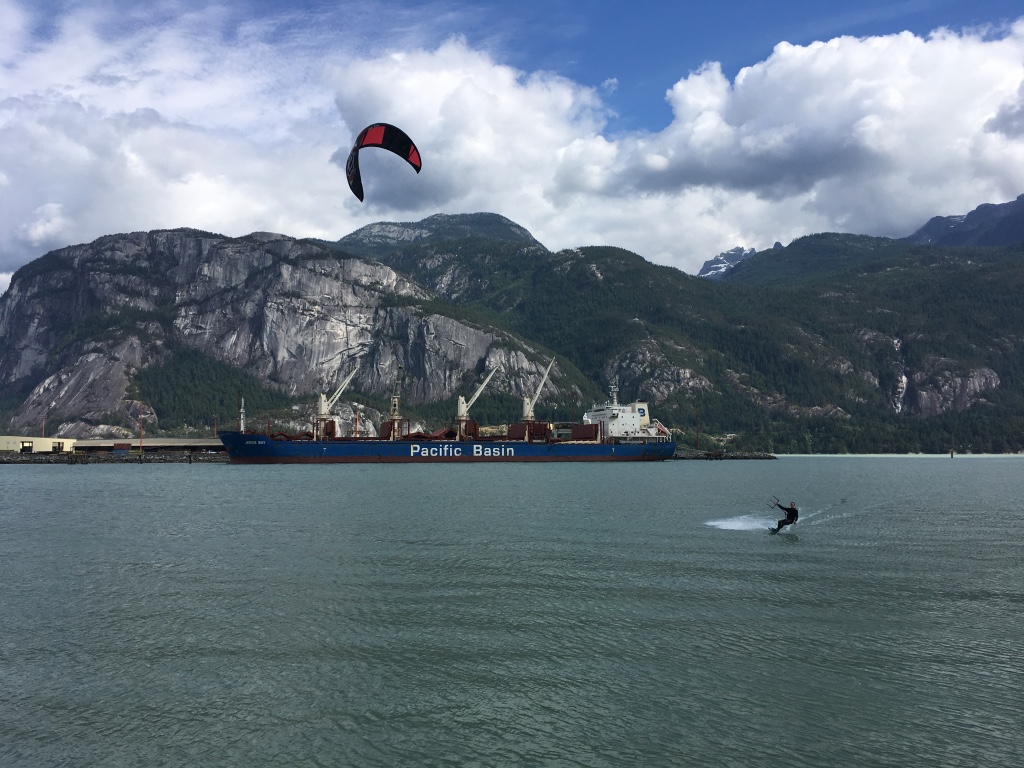 Flat water in The Honey Pot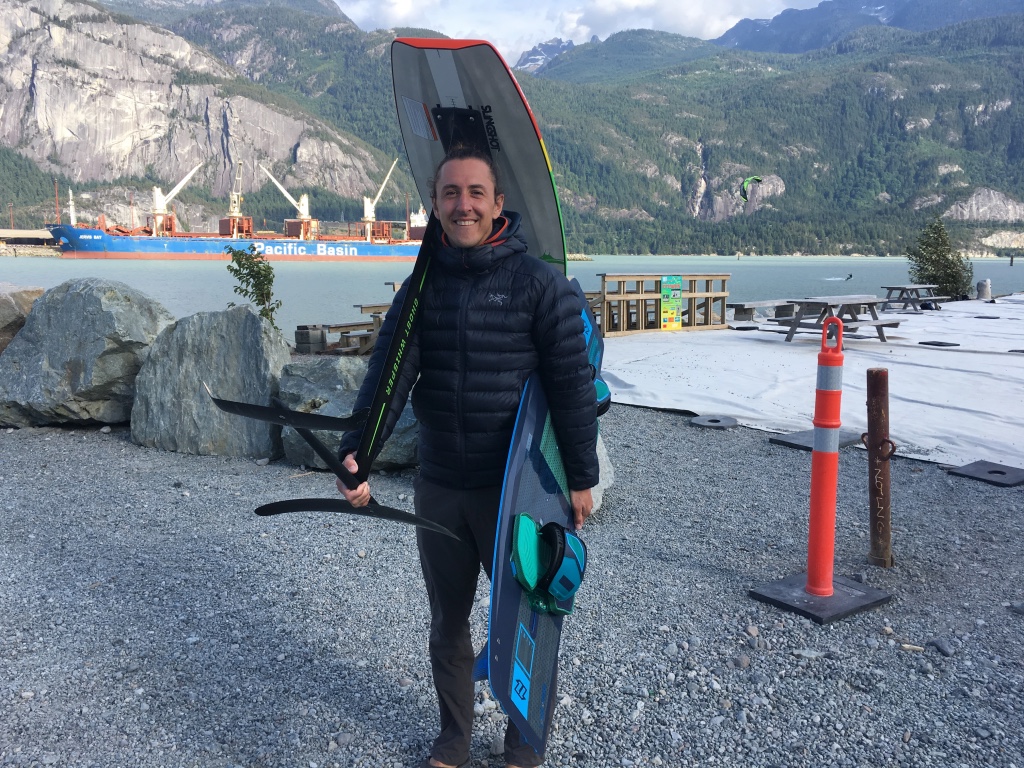 So ready for this
Kiting in Howe Sound is nothing short of magical. Surrounded by granite cliffs and the snowcapped Garibaldi looming overhead, it feels like a scene out of a story book. The spit is a thin finger of land stretching out into the sound and ends at the kite launch. There's no shoulder, no guard rail, and it's barely wide enough for two cars to pass each other carefully. Every time I pull up and park I feel a sense of relief that my lumbering van somehow managed to stay on dry land one more day.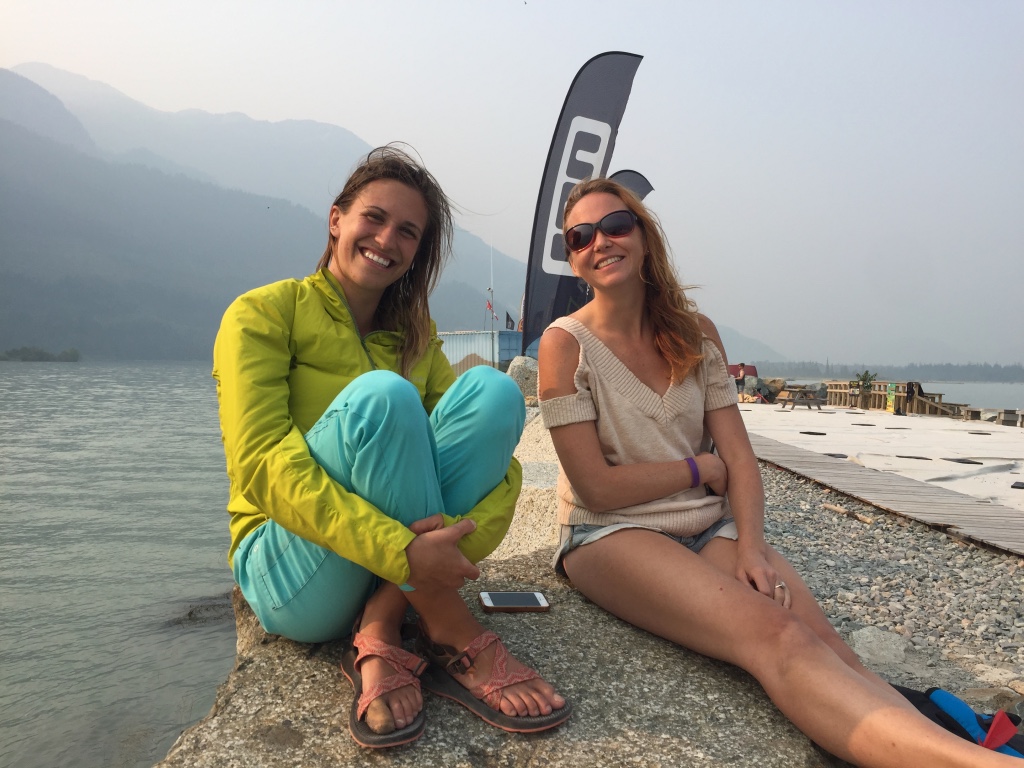 Kellie and Kat waiting for the wind at The Spit
The kite launch is unique in many ways, most notably in the fact that there's a fee to use it. Most kite beaches are free, much in the same way that it doesn't cost anything to climb at your local crag (the Gunks being the exception). Squamish is different, but for a good a reason, it's not really possible to self-rescue there. The wind tends to shut off quickly and with little to no warning, and at the end of the day there are always a handful of folks with kites in the water. If your kite goes down and you can't relaunch, you'll drift into the shipyard, which isn't great for anyone involved. A jetski rescue service is a mandatory requirement to keep people safe, which of course isn't free, thus the fee.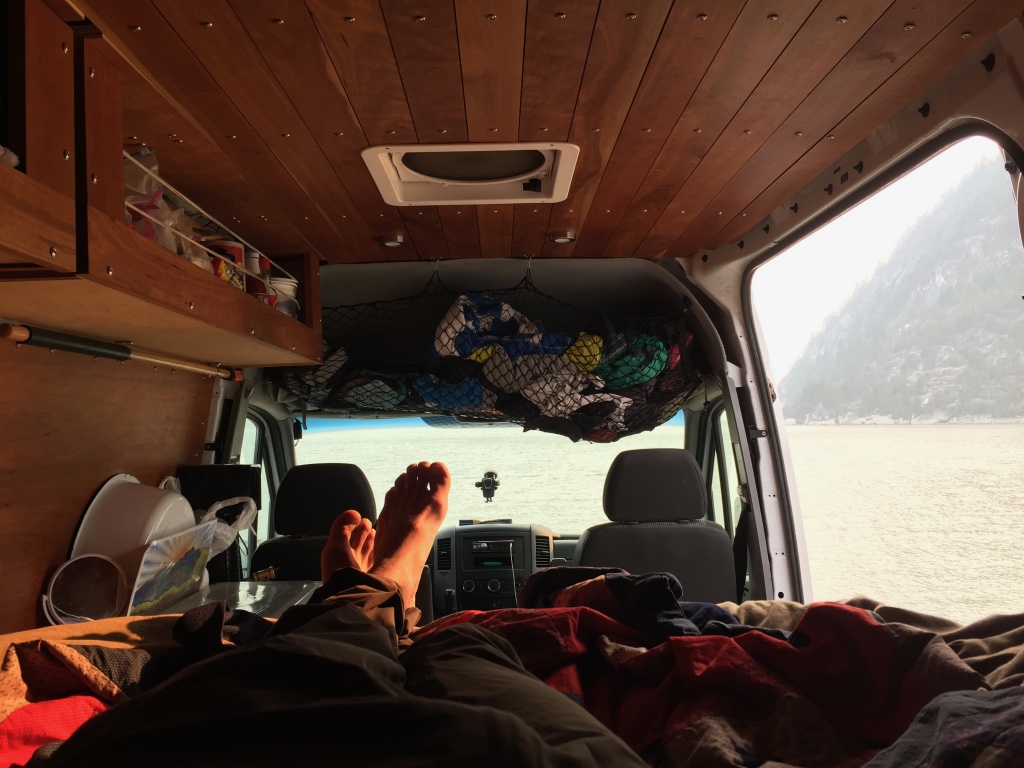 #vanlife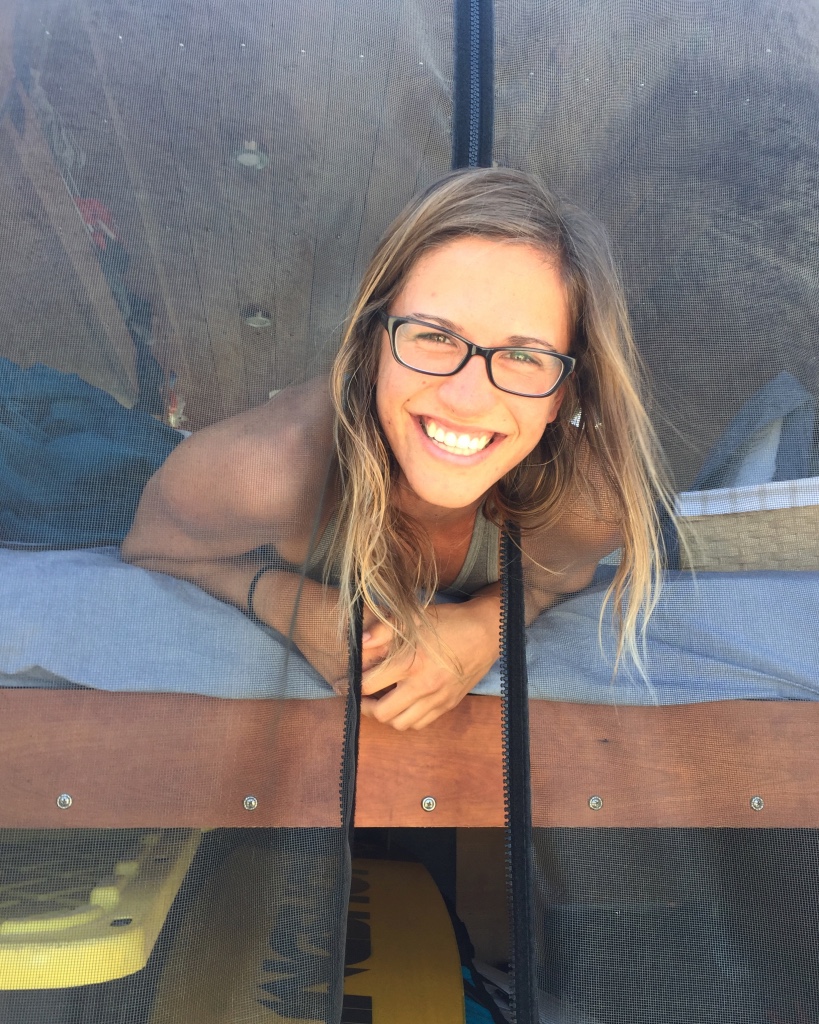 Once you're in the water and you've cleared the launch area, you're free to explore the sound however you like. Because of the curving shape of the gorge you get secluded areas of flat water along the banks in certain spots. These places are great for trying out new tricks, and can sometimes be crowded, most notably The Honey Pot. The Honey Pot is an area of flat water just downwind of the launch, which stays flat because the split blocks the wind. Although the water is flat, there's also no wind on the water, so if your kite drops below the level of the spit (~6 ft), it can be challenging to get it back up. Nonetheless, The Honey Pot is THE spot for pros (and wannabes) to throw down their latest tricks to an enthusiastic crowd. There are even bleachers set up right in front of it for people to come sit and watch. On any given day there are at least a dozen kiters on rotation practicing their tricks. The Honey Pot can be complete chaos. Because it's just downwind of the launch, there are people getting into and out of the water right in the path of the kiters who are headed towards the Honey Pot. This is both frustrating for people who are trying to get out and for kiters who are trying hard to dial in their latest unhooked mania.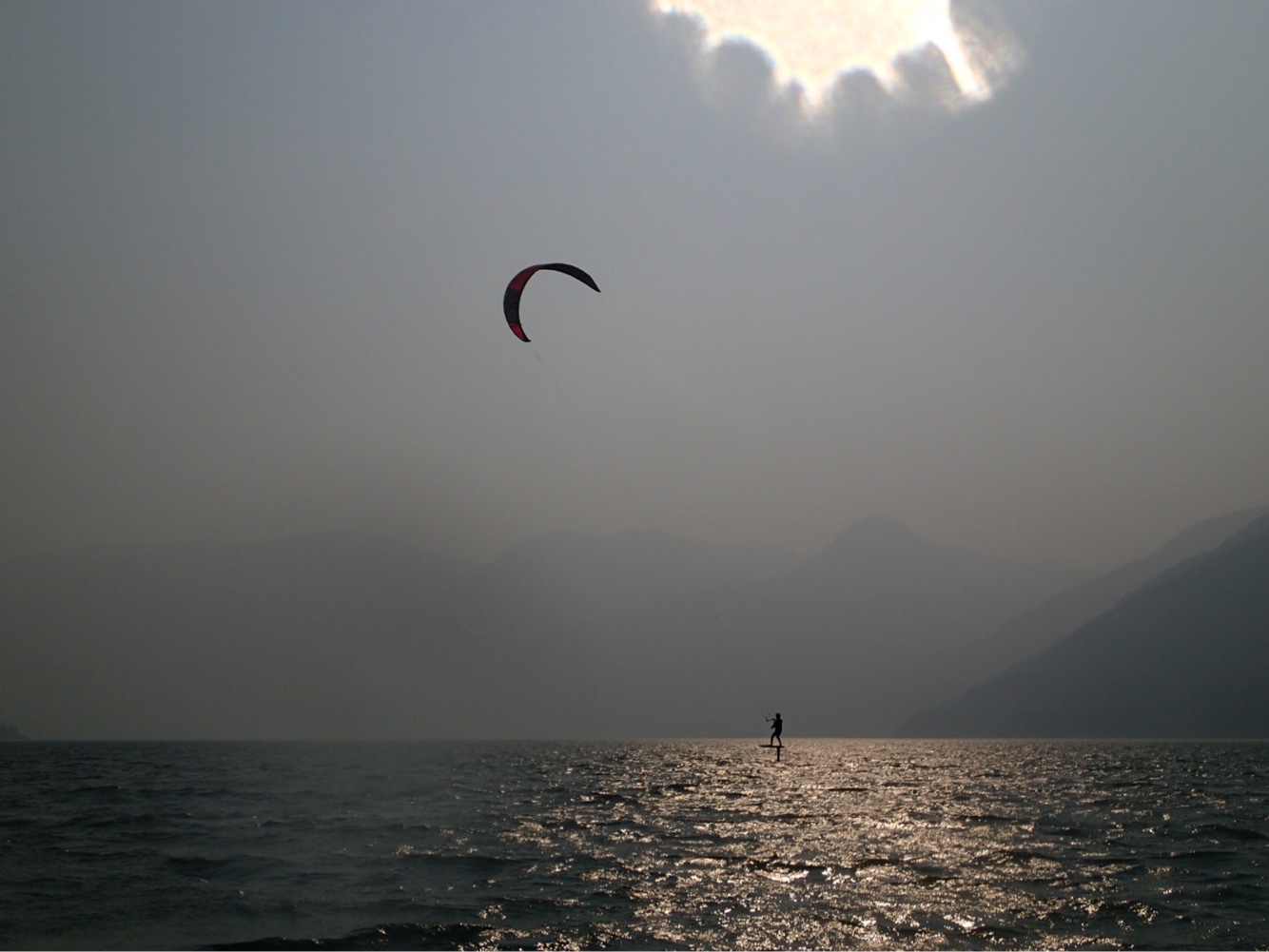 Just foiling around
To make matters worse, the launch area is extremely tight and extremely stressful. Launching and landing has to be done as quickly as possible to avoid being in the way of 20 other kiters. If you land your kite and your lines don't cross 6 other kites on the way down, that's unusual. Typically you land your kite and stow your lines as quickly as possible because those 6 other kites under your lines are waiting for you to get the hell out of their way so they can launch. It's always like this, it's just the way of the place. You get used to it, but it's always stressful. It's unfortunate because it adds a palpable tension to the experience, which sometimes results in yelling. It's happened to me too, which I feel really bad about. I came in to land my kite and a guy in jeans and shoes gave me the wave that he'd land me. After stumbling over grounded kites three times in an attempt to catch my kite, I found myself getting pulled downwind off the break wall of the spit. I got scared and angry and yelled 'catch the damn kite' loud enough for everyone to hear. It was the wrong thing to do and I apologized afterwards, but it's that kind of elevated tension that pervades the launch there.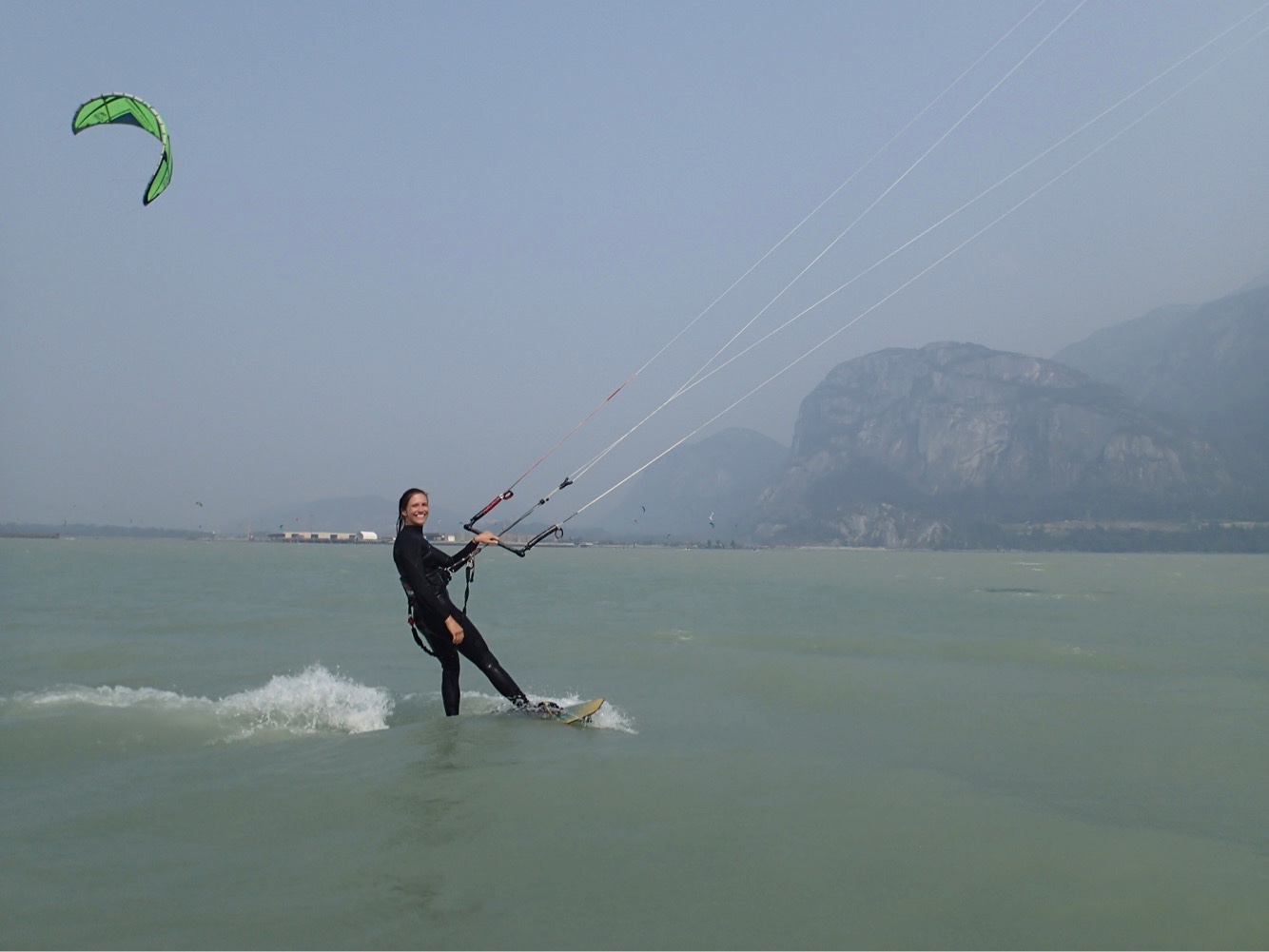 Kellie on a smokey day
Howe Sound is the confluence of the Squamish River and the Pacific Ocean, which is really interesting because you can kite in fresh and salt water in the same session. There are seals and sealions galore, both hunting the river trout that spawn in the estuary. They pop their heads out of the water with a wriggling trout in their mouth and give you a furrowed look of curiosity and exasperation, like puppies chasing their tails. I can't help but giggle to myself when they surface next to me, full of happiness and contentment.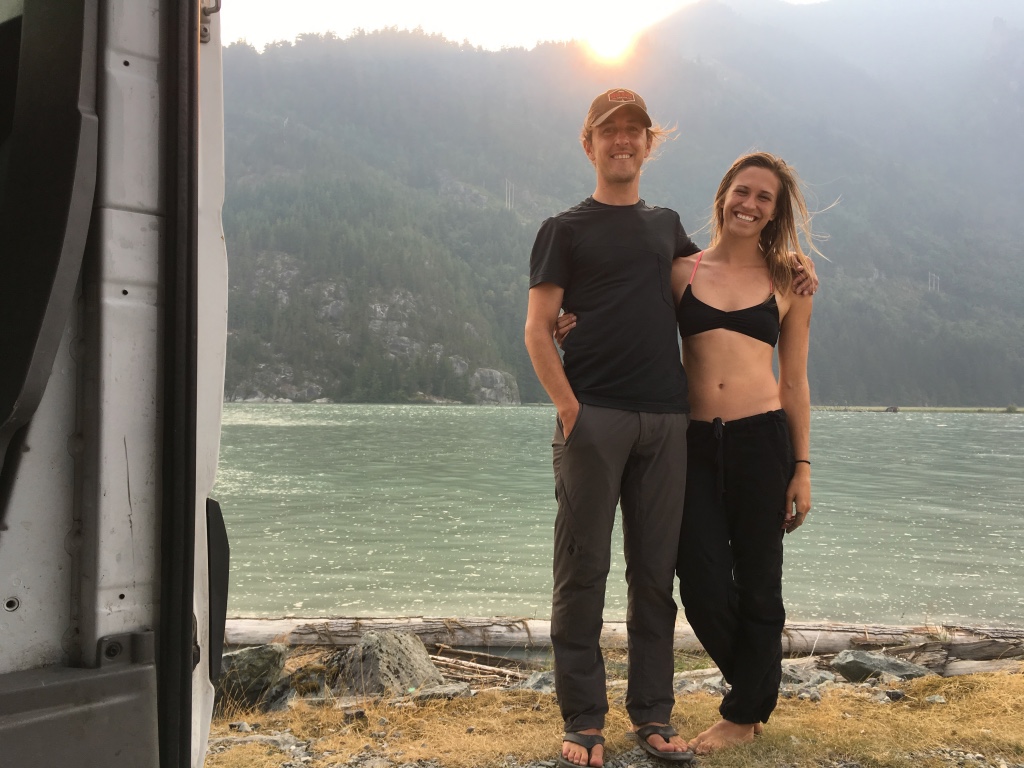 The wind in the sound can be quite steady and there's a mix of flat water and chop. The other notable feature of Squamish is the water temperature. It's cold. Really really cold. The Pacific Ocean isn't known for it's balmy temperature, but it's really the Squamish River, which is mostly ice melt coming out of the mountains, that's the real killer. My ratty old 5/3 wetsuit wasn't cutting it, even with booties and a fleece lined neoprene hoody over it. I normally like to grab every ounce of wind I can get, from the moment the wind turns on until I drift in to shore. This could be 4, 5, 6 hours in a session. In Squamish I found myself coming in after only 2 hours on the water, simply because I was freezing. Once you get chilled and start to warm up it's hard to find the motivation to squeeze in a second session. Nonetheless, occasionally you see someone kiting in board shorts (freaks). Canadians are of a different breed I guess.
So what's the end result? Squamish is fantastically beautiful. The climbing will blow your mind and the kiting is stellar. There might be no better place in the world for someone who does both sports, but good luck finding a spot in the campground!
Parting shots
So many photos, so little time.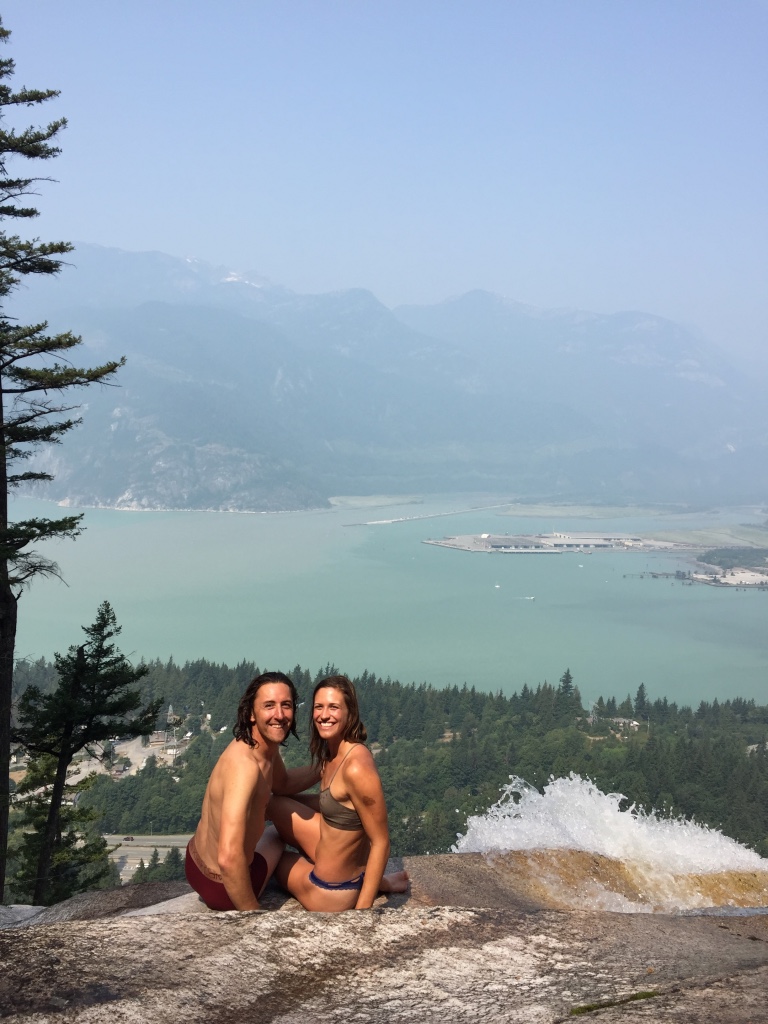 Fantastic waterfalls over Skywalker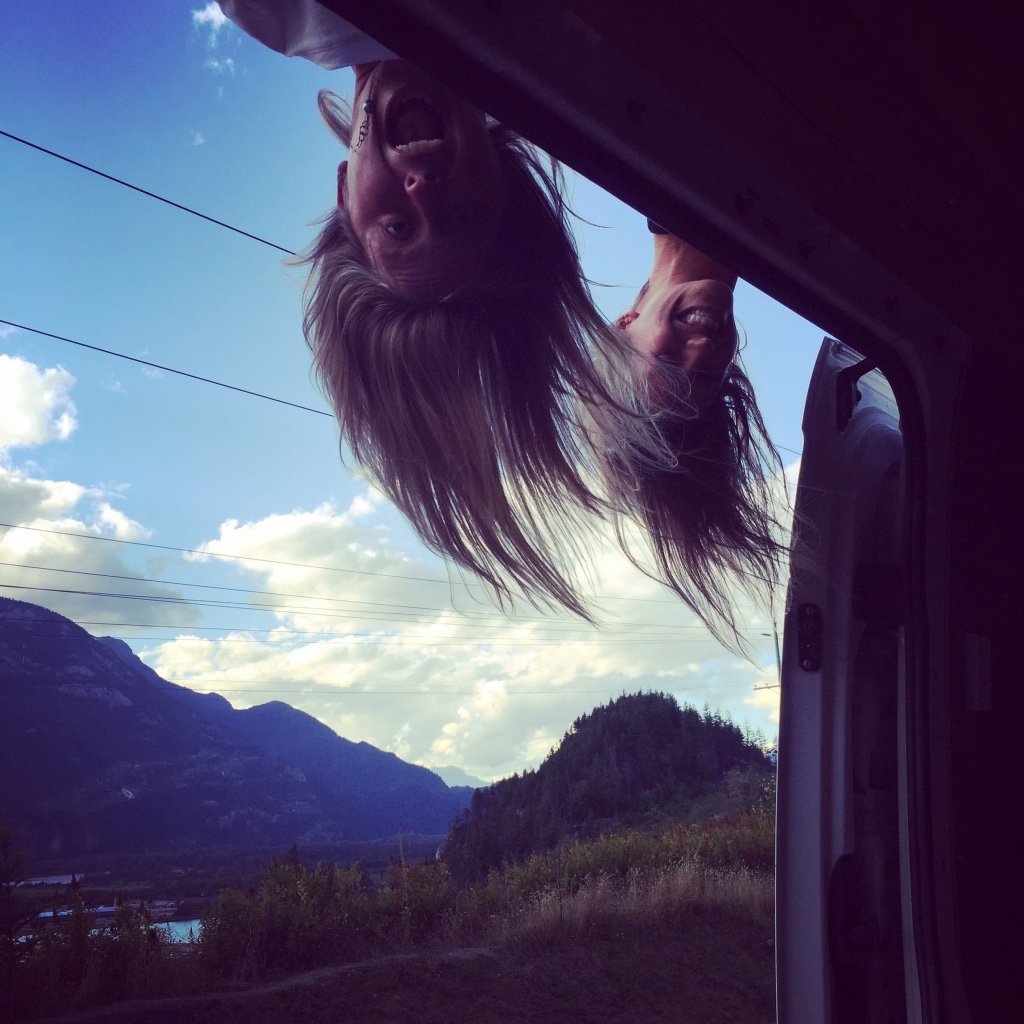 Kellie and Sierra pretend to be troll dolls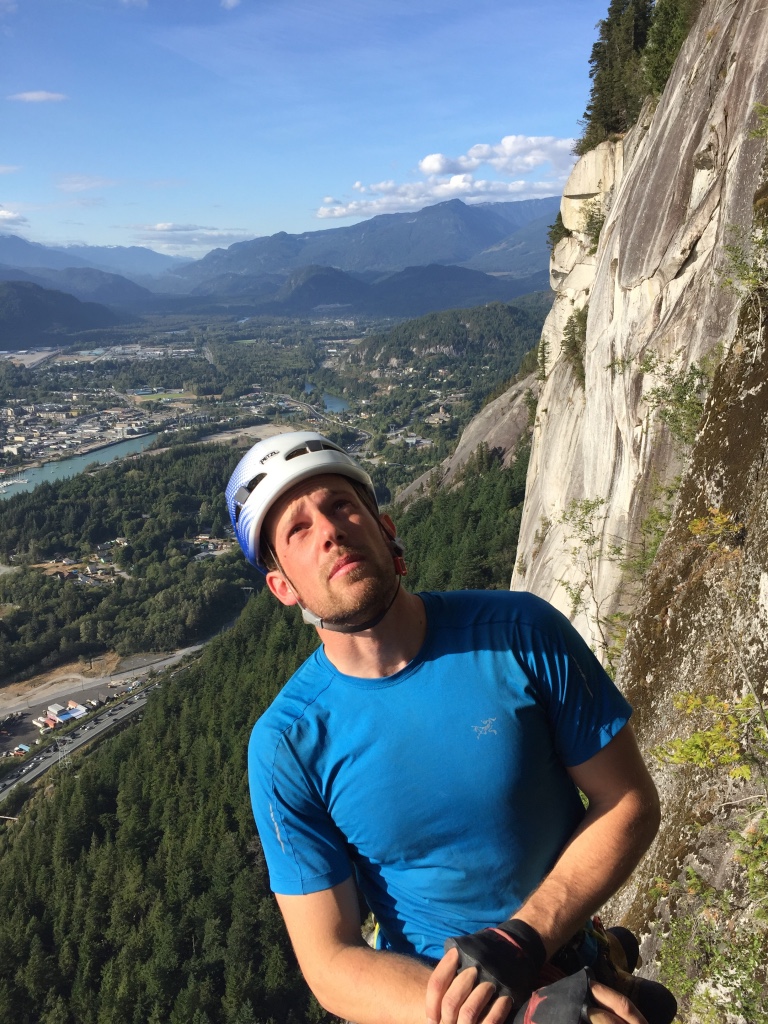 Your move Mr Adam
Topping out Angels Crest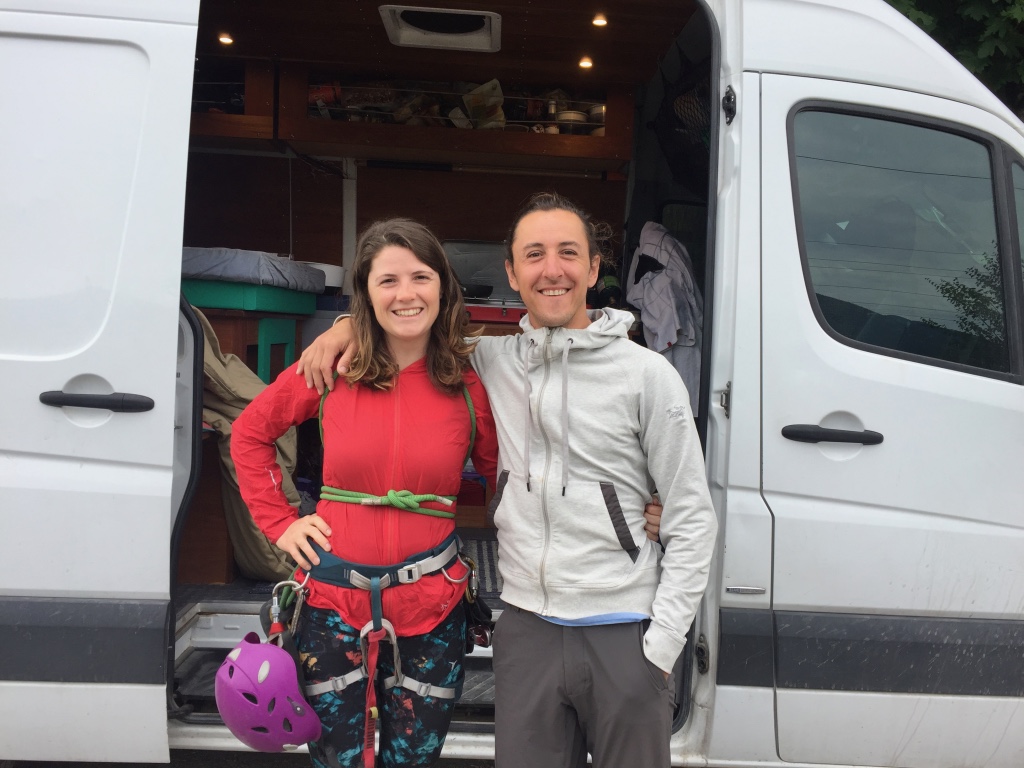 Look who I found!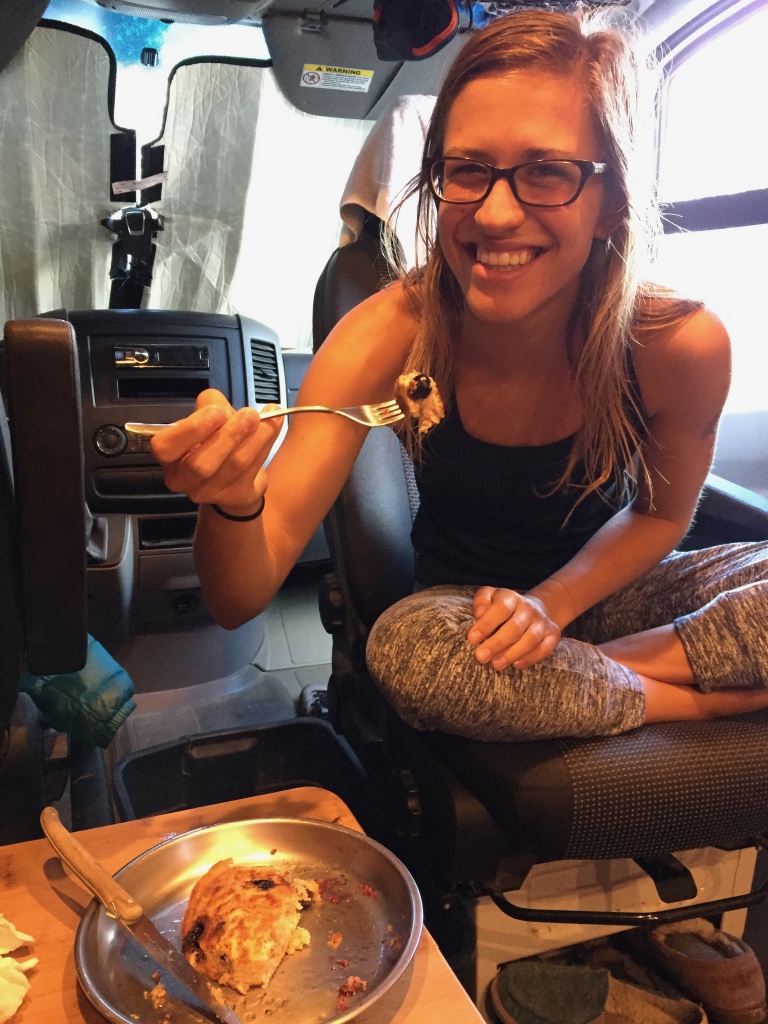 #vancakes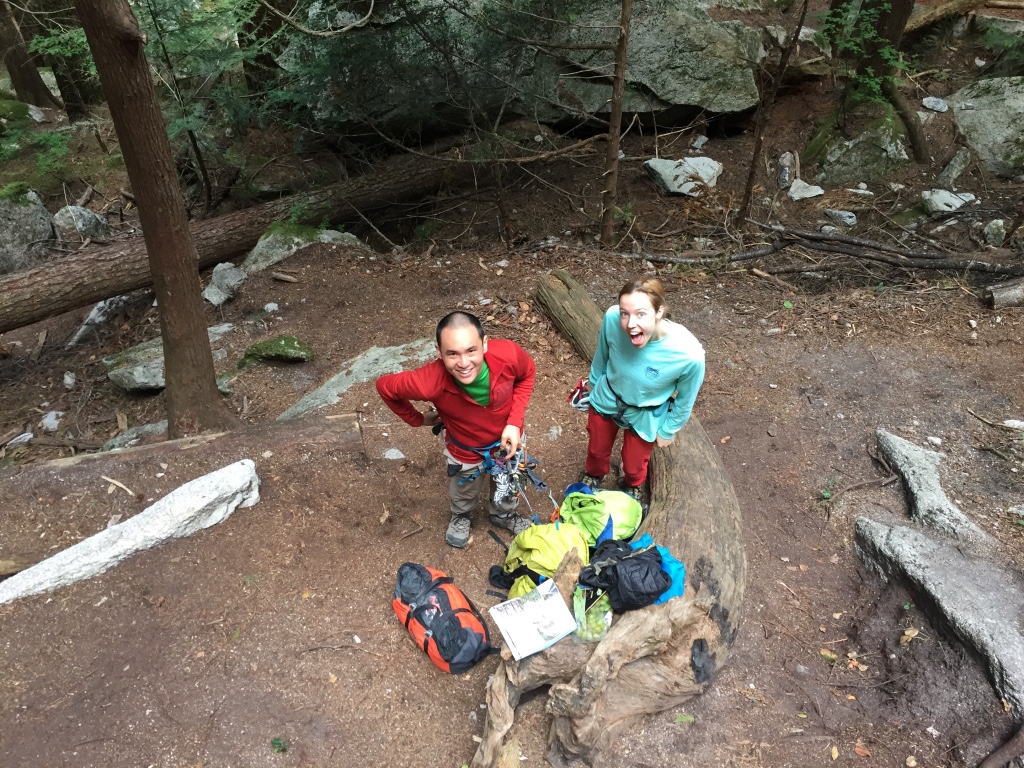 Claire and Eugene, the power couple!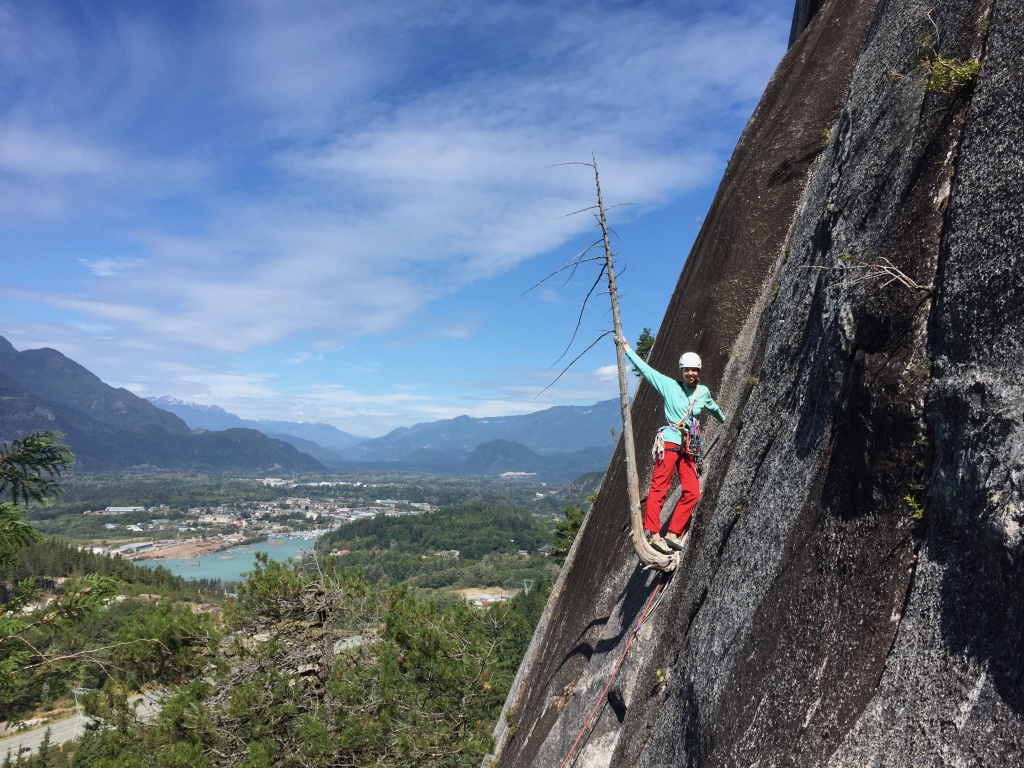 Claire on Bulletheads East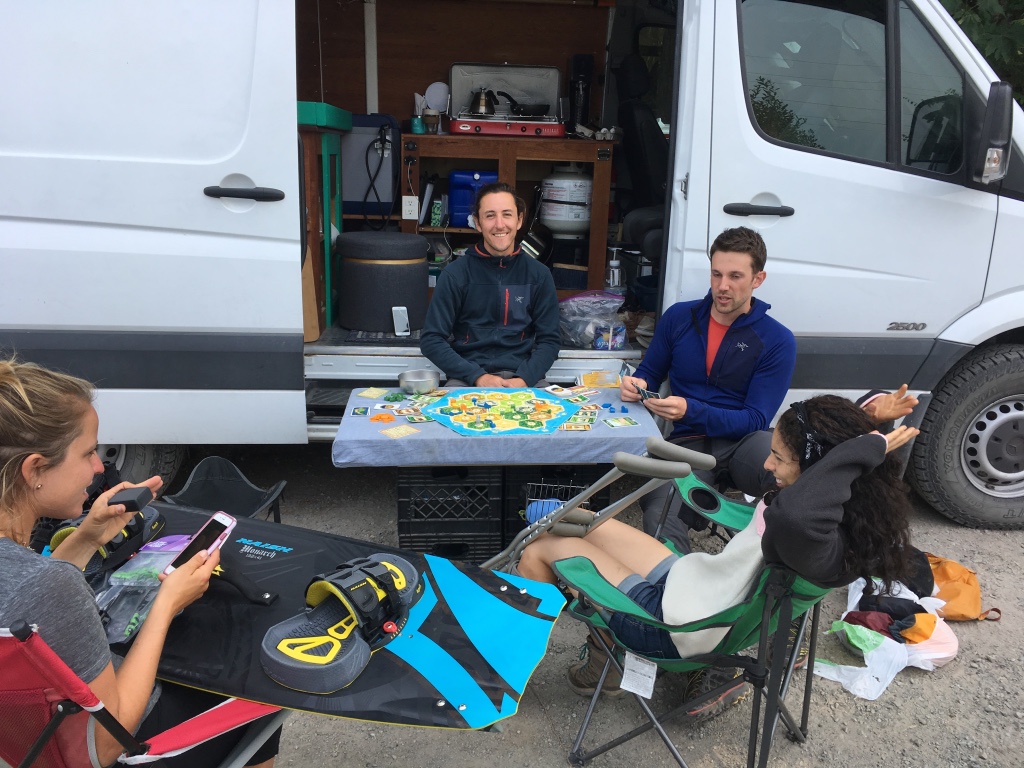 There's always room for Catan!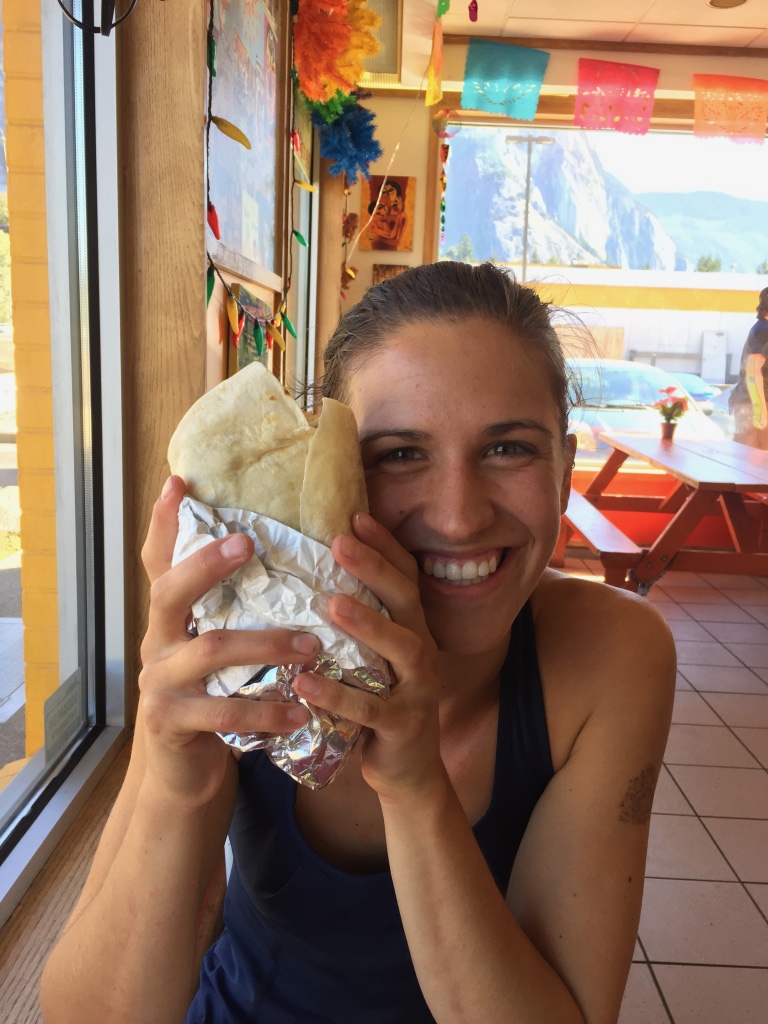 Sometimes (often) you just need a burrito as big as your head