Unwinter is a concept I openly stole from my buddy Brian, who bravely pioneered the first attempt in a semi-successful venture to Red Rocks. Although I loved the idea, Red Rocks was still too cold in winter for my tastes, I needed a warmer locale. Having made significant progress with my kiting, I really liked the idea of throwing myself at the ocean for like 3 or 4 months. Some kiters I met in Hood River and Long Beach strongly recommended that I check out La Ventana, which they hailed as a winter kiting Mecca.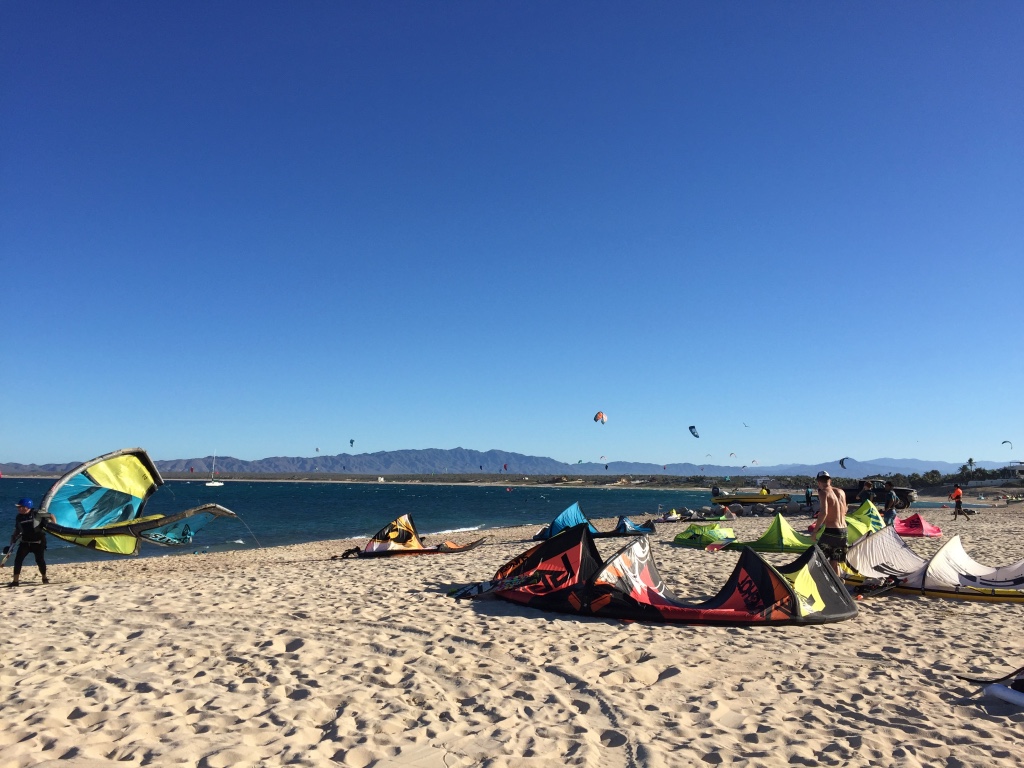 Located 1000 miles south of the US/Mexico border in a small fishing village on the east coast of Baja California Sur is one of the world's greatest kite spots. From November to April there is wind about 20-25 days per month. Like clockwork the wind turns on about 11am and off around 5pm. Six hours of solid kiting. Every day.
Boosting a floaty jump on the twin tip.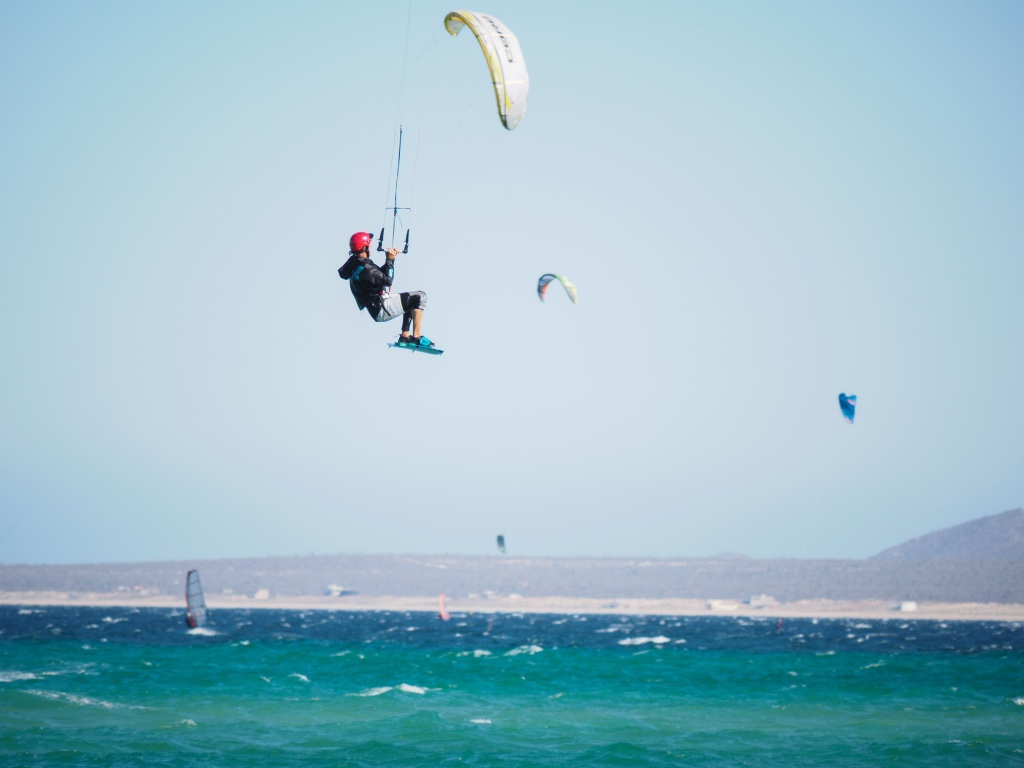 The town itself is fantastically beautiful. The surrounding mountains turn into hills that gently roll into the Sea of Cortes. The island of Cerralvo is just 8 miles off the coast and looms like Laputa from Gulliver's Travels. It's a tourist town, but only for kiters and wind surfers. Mexican mom and pop restaurants line the only paved road through town, $6 will get you four tacos and a fresh horchata. A short drive down a dirt road brings you to a natural hot spring right on the beach. It's truly fantastic.
Watching the sun set from the hot springs with a bottle of wine.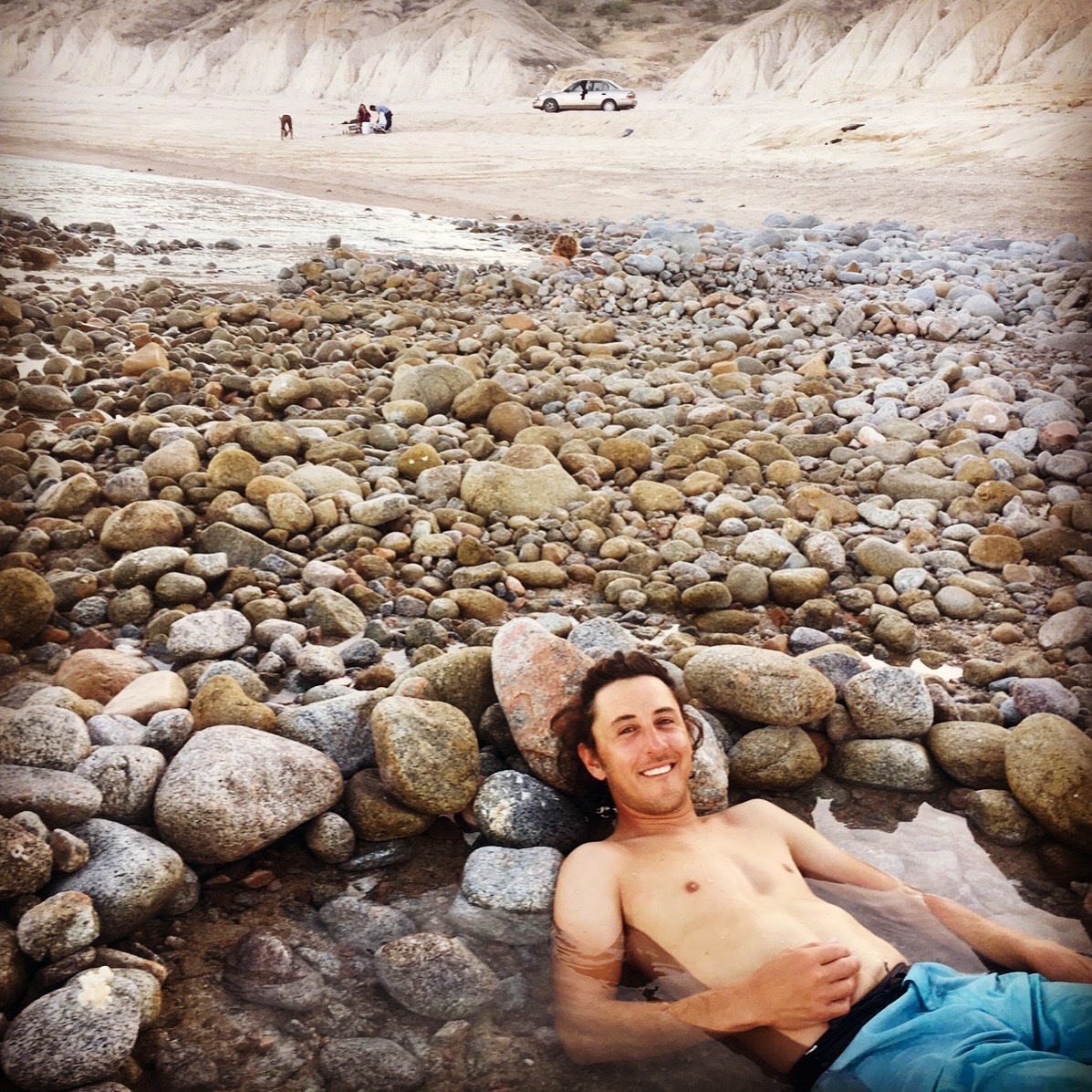 Moonrise and sunset over the sea.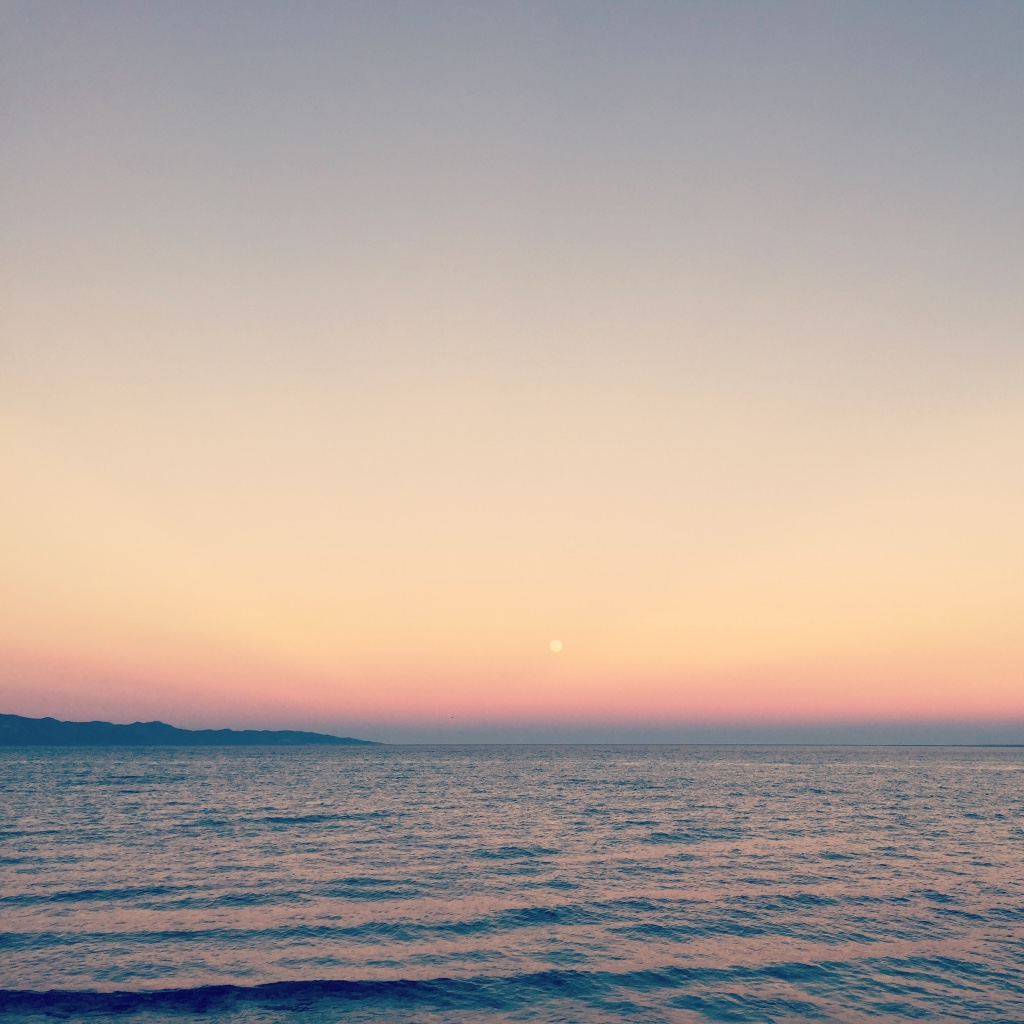 Crystal clear waters with Cerralvo Island in the background.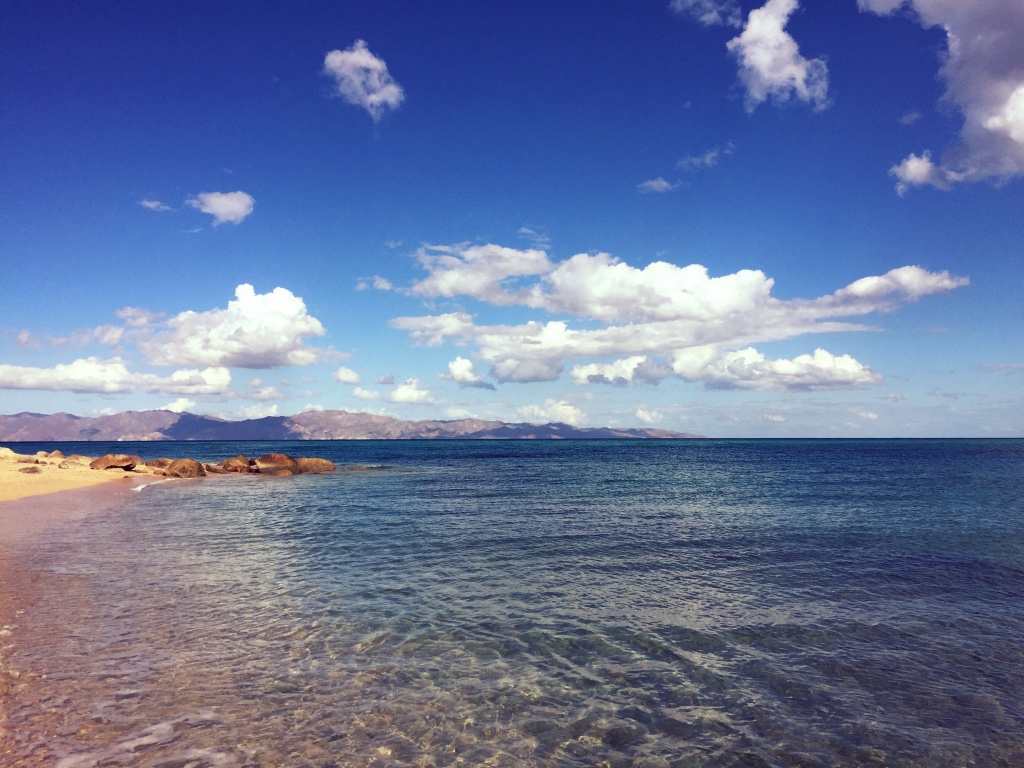 Getting to La Ventana is a bit of a trip. I did the 20 hour (1000 mile) drive in two days. Solo. I've never been to Mexico before, much less Baja, so I really had no idea what to expect. Of course I've heard all the stories of drug cartels and corrupt cops, but I've also heard stories of honest hard working people who help strangers with popped tires. I figured there was some truth to both stories and approached this new land with caution.
A typical view on the drive through the Baja desert.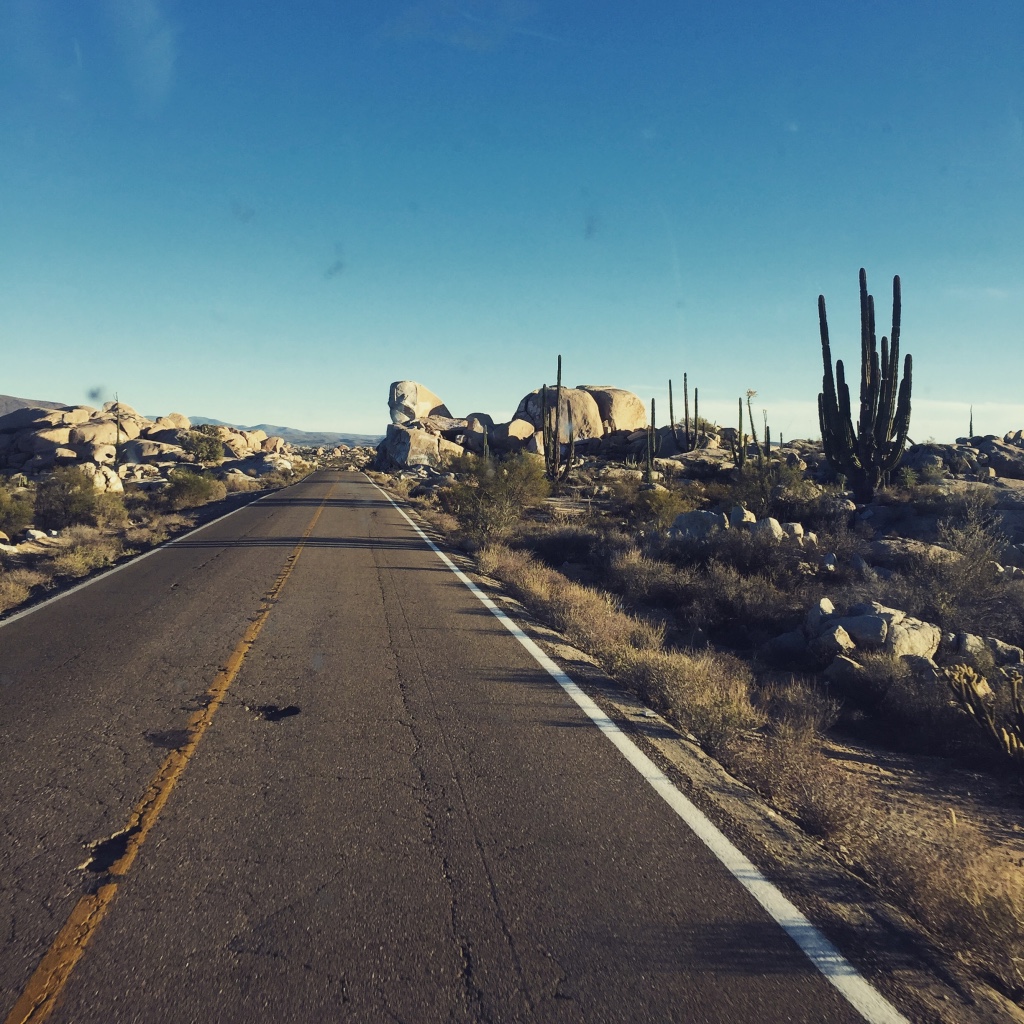 My friend Gabor from LA gave me all the beta for the drive. I knew one place to spend the night (Guerro Negro), the gas station that I had to fill up at before entering open desert (El Rosario), and that I needed to get a Mexican tourist Visa at the border. That last one turned out to be kinda tricky. Going through my first inspection at the border left me a little shaky as I drove right past the immigration office. In my defense, the building is completely unlabeled and has no discernible parking lot. You have one shot to awkwardly pull off to the side of the road before you're forced onto the highway. There's no way to turn around and it took me a half hour to make my way back to the border. I tried to find an entrance to the immigration office, but quickly got forced into the traffic crossing the border back into the US. To make matters worse, I accidentally got into the Sentri lane, no idea what that means, but apparently it's the wrong lane. It's kinda like the short line at the DMV, trust me, it's not for you. Apparently if you take the Sentri lane by accident, it's policy that you have to go through secondary inspection. After 45 minutes they finally let me cross back into the US. On my way through I asked the guy, hey where do I get wonah those fancy Mexican Visa thingies? "Visa?", the guy says, "You don't need one of those. Some people even own houses in Mexico and don't have Visas." This turns out that's wrong, by the way, you DO need an FMM certificate from the immigration office. Also Mexican auto insurance. I believed the guy at the border though and drove straight to La Ventana without looking back.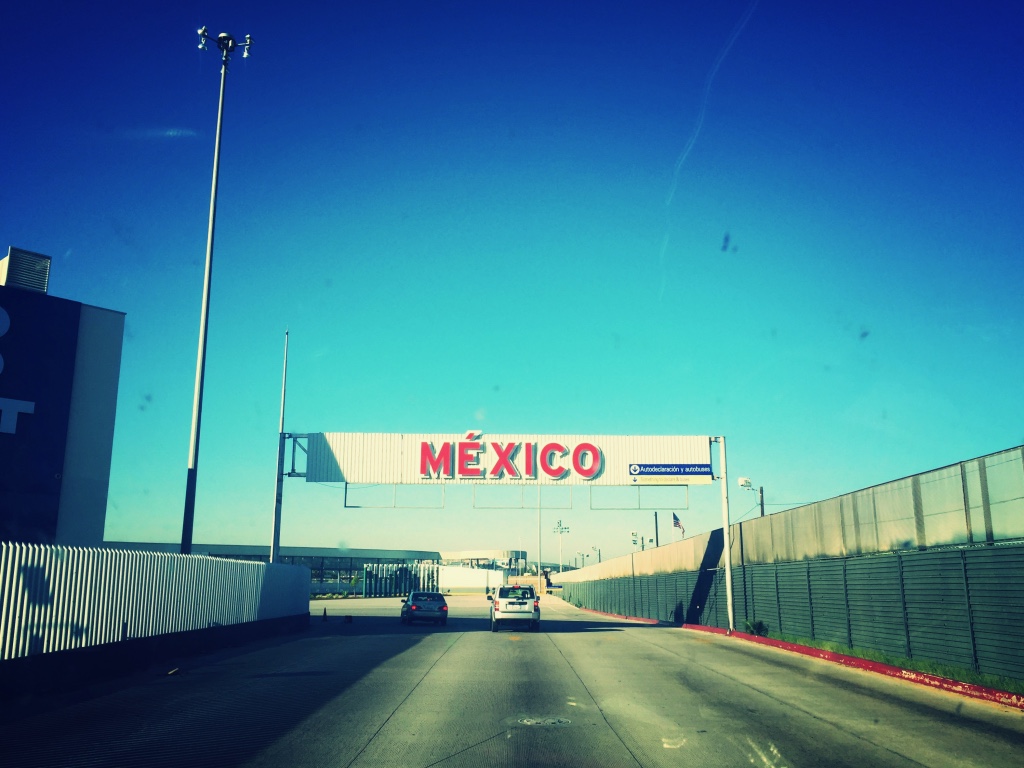 The first town across the border is Tijuana, which has a lovely coastline. It's easy to see why it's such a destination for college kids on break. Close to the south is the smaller city of Ensenada. The next ~950 miles or so is mostly empty, barren, wild desert. Mexico Route 1 follows the Pacific coast for a while, then dodges into the mountains of the central peninsula before crossing back to the Sea of Cortes on the east coast. Every minute of the drive is astonishing beautiful and yet terrifying at the same time. This place is so wild that there are military check-points every 100 km or so, where men in full camo bearing semi-automatic weapons tear apart your home. And you're happy that they do, since most of the local police are corrupt. It's not unusual for a tourist to be pulled over by the local brass and have their license taken away. Getting it back will cost you hundreds of dollars and possibly a night in Mexico prison if you refuse. Besides that, there's very little in the way of roadside services. This is open desert. The road ends at the white line. Drifting in your lane will land you in a ditch. A fate that occurred to several tractor trailers I saw with their 18 wheels sticking straight up into the sky. It's also an open range. Cows are free to roam almost anywhere they like and they really like the road, especially at night when the asphalt is warmer than the desert. You CANNOT drive at night, you WILL hit a cow. This almost happened to me. Twice. Both times I was able to swerve at the last moment and all my belongings went flying across the van. There's one stretch of road from the west coast through the mountains to the east coast with no towns or gas stations for hundreds of miles. This is not a place you want to have car trouble. My check engine light went on during this stretch. Having spent the previous week at a Vegas auto repair shop, I assumed the van was in tip top condition. I started to worry about the diesel leak that was supposed to be fixed. Fortunately I did not run out of fuel and nothing bad really happened. Despite the military inspections and impending sense of doom, the drive went rather smoothly. I arrived in La Ventana on December 2nd, just a few days before my birthday.
More than 1000 miles of open road through the desert.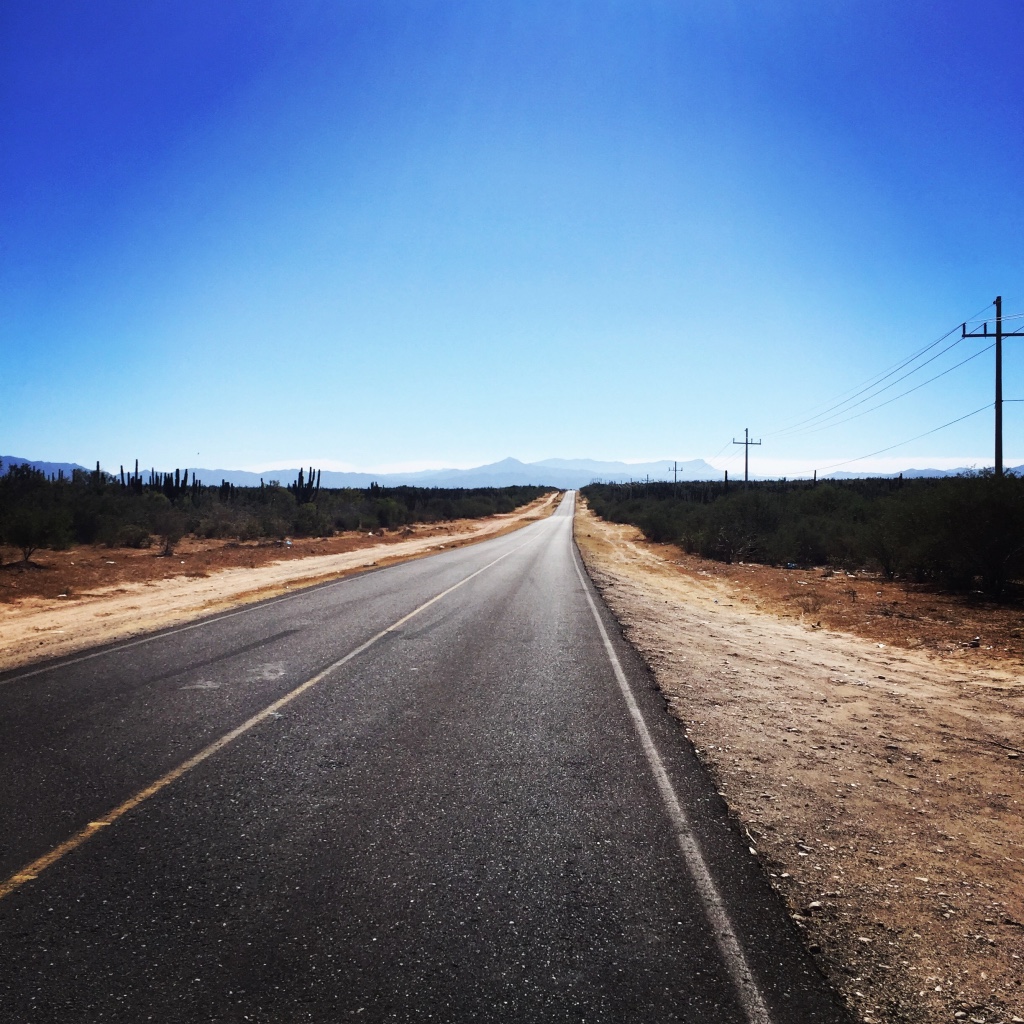 Parked at a truck stop with the big boys beside the only gas station for 300 miles.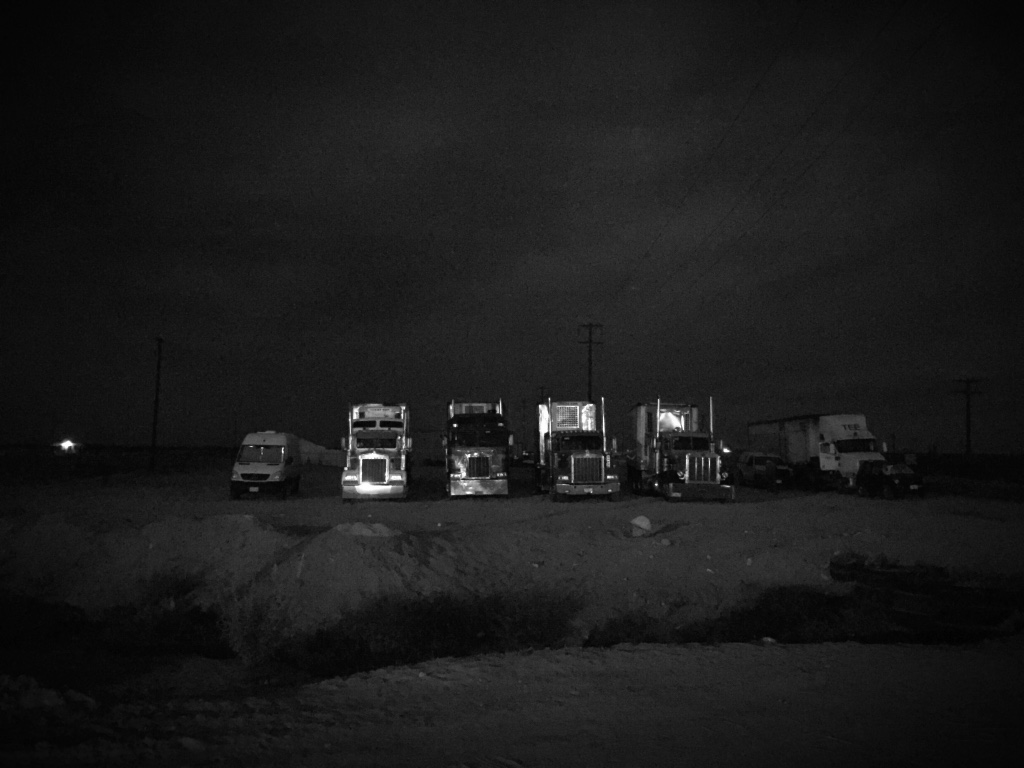 Greeted by the best sign ever as you enter La Ventana.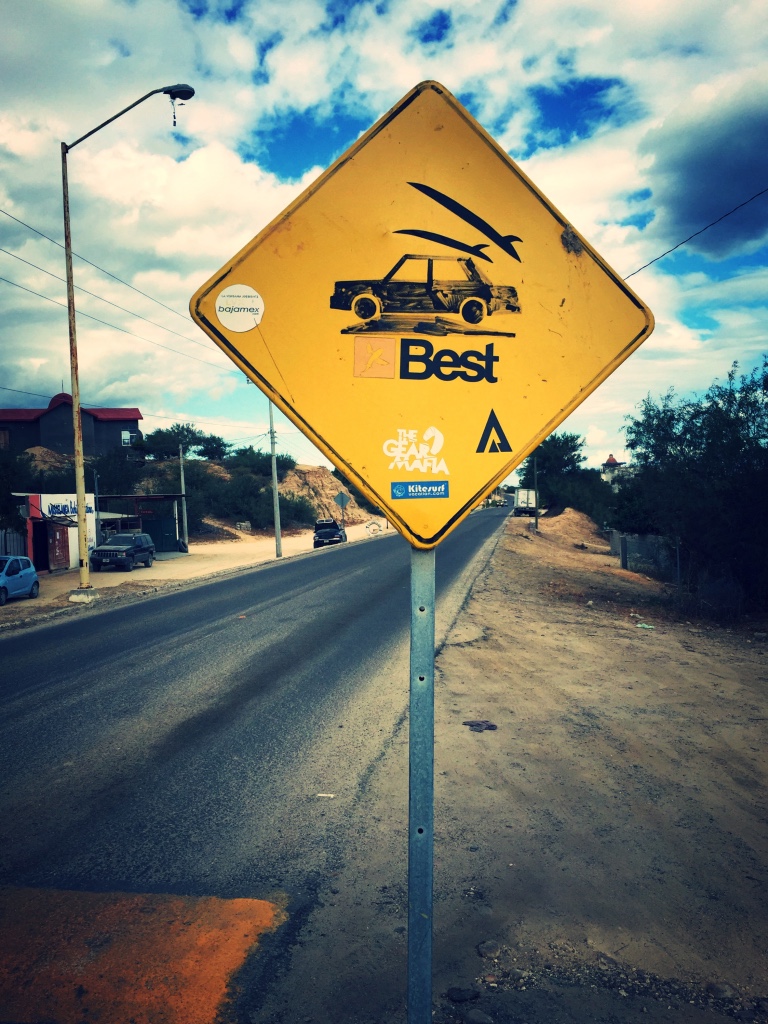 The kiting in La Ventana was fantastic. I started riding my twin tip at first, just to get used to the place, but transitioned to the hydrofoil after a couple of weeks. Learning to kite was hard, but learning to foil felt impossible. After a week of face planting over and over again with my full sized mast, I tried the shorter masts that came with my Slingshot Flight School kit. With the shortest mast I was able to get up and ride my first day. Within a week I was riding the full sized mast and never looked back. My hydrofoil was a beast, the 3′ aluminum mast and fuselage were massively heavy. The oversized board was so big that I couldn't carry it under my arm. The whole setup weighed about 20 lbs. The metal blade on the back of fuselage gave it an overall look that suggested you could use it to split wood. But the big board had a lot of flotation, which is helpful when you're learning, and the foil was slow and stable. Overall a great beginner setup. By the end of my time in La Ventana I was able to do a touch-down jibe almost every try, a foiling jibe some of the time, and had executed at least one change of tack. Not bad. I'd also purchased a strapless surfboard and was able to jibe on that too, which is actually easier. On the twin tip I could carve turns to toe side and back, all with a kite loop. Pretty good progress for someone who couldn't even rig a kite at the beginning of the season.
Foiling with the green monster.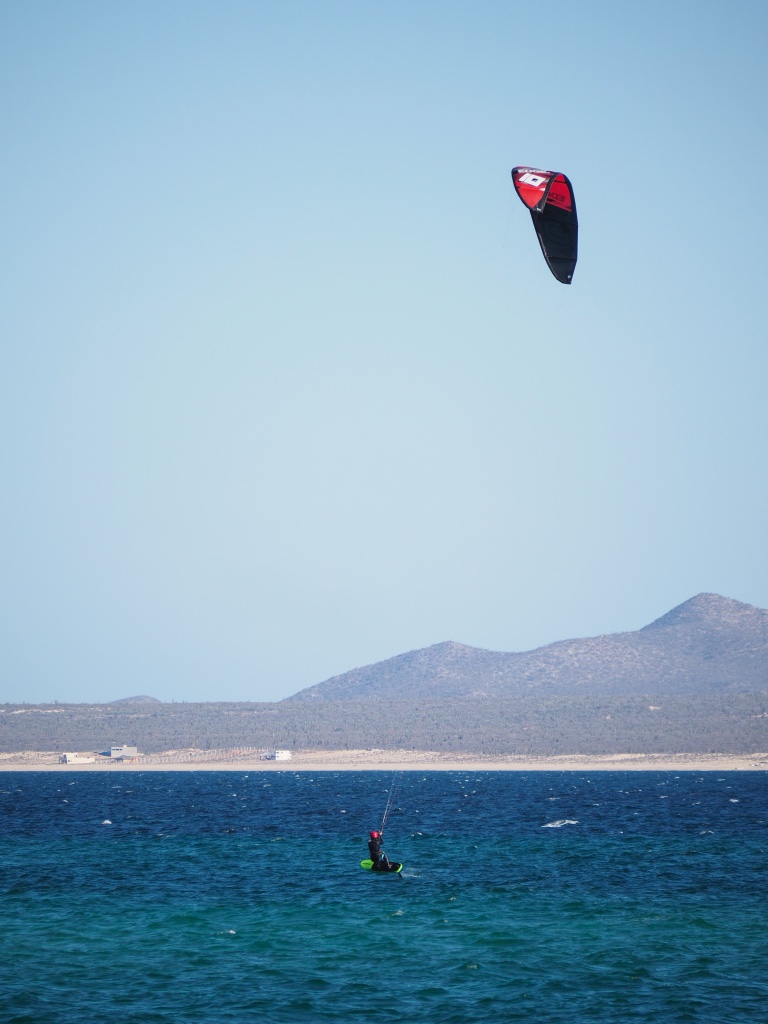 Getting radical on the twin tip.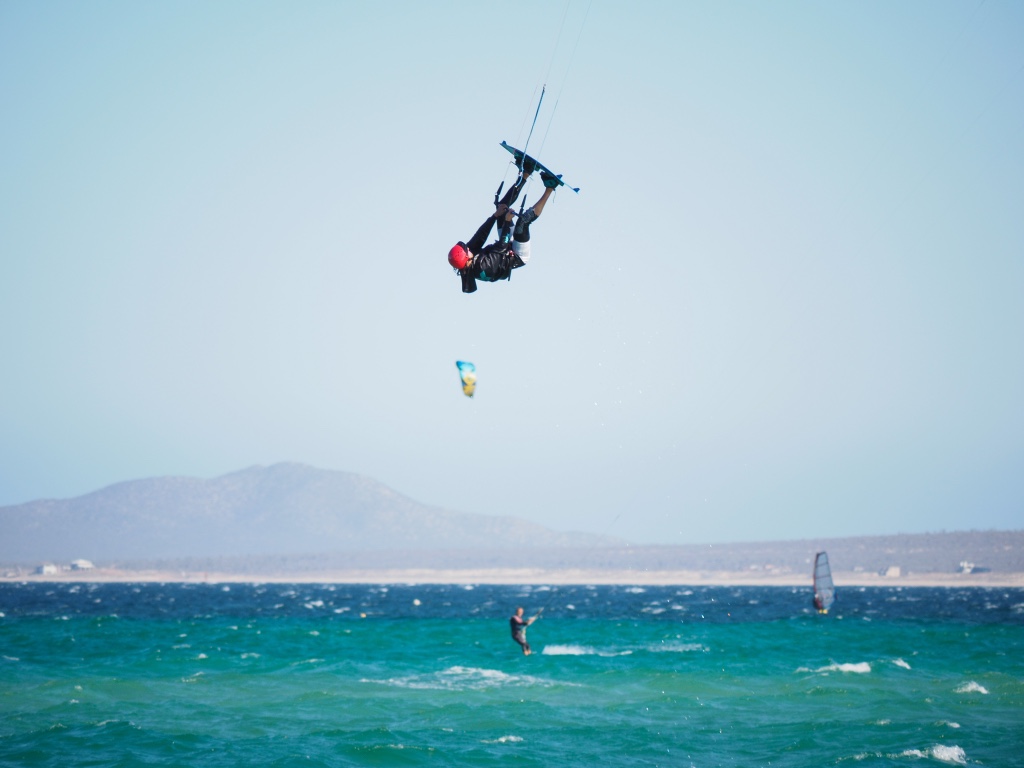 The campground is right on the beach and even though my site was tucked in the back, my van was only 200 ft from the sea. My campsite was divided up into three tiers, the first was where I parked the van, under a huge dead tree which served as a home for a family of great horned owls. One of the owls we name Jaime, after my kiteboard (and of course the rider Jaime Herraiz). I put a carpet down on the second tier with a table and chairs. This is where I usually had breakfast and lunch. Overhanging the second and third tiers were a pair of trees that lent me their shade. On the upper tier I strung a hammock up between the trees. Ultimate camping luxury.
A typical morning in La Ventana.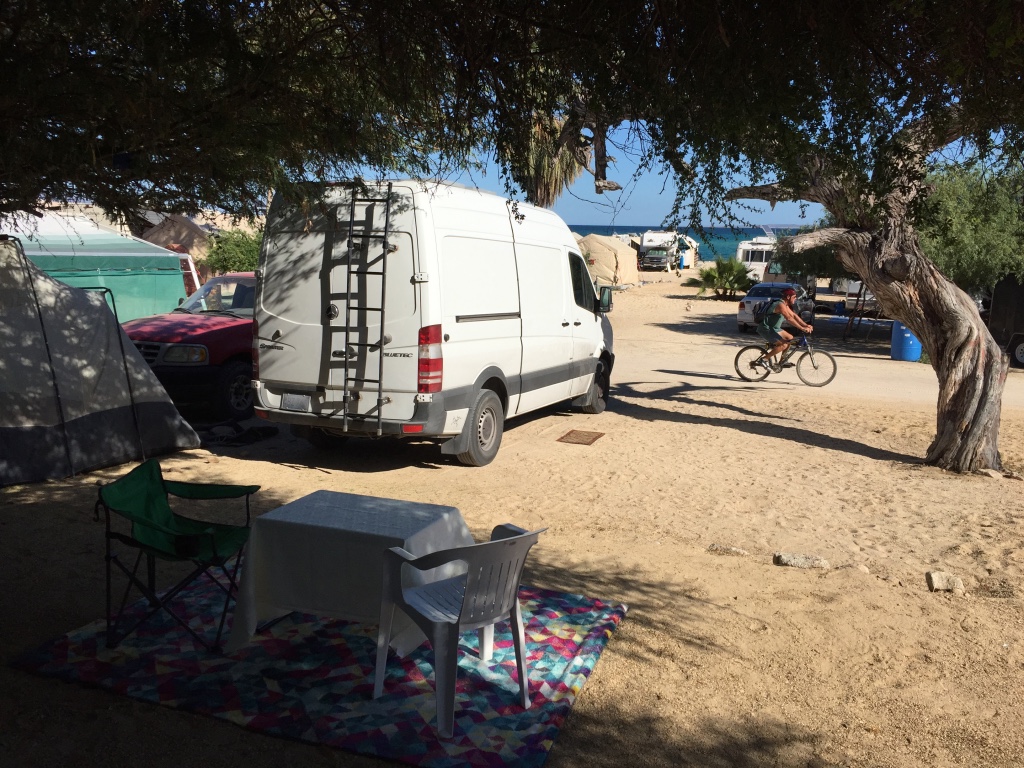 Sunrise in the campground.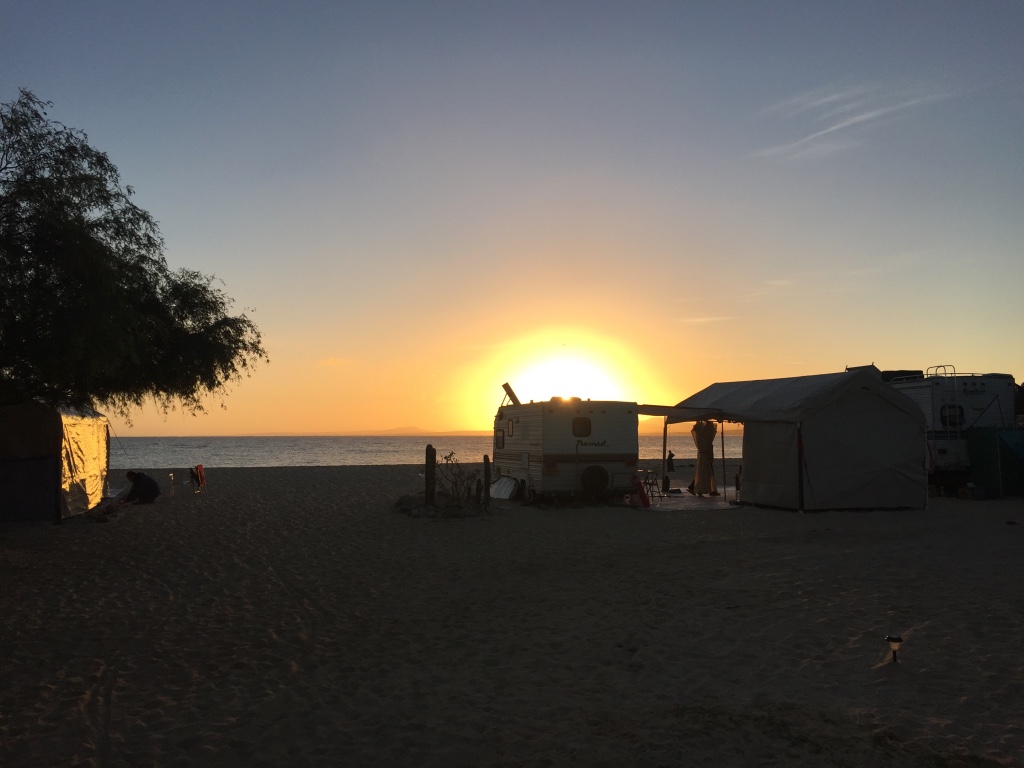 There's also a lot to do and see in the surrounding area. A few friends and I ventured across the peninsula to Todos Santos, a well known surf spot and fabled home of Hotel California. On another windless day we headed into La Paz and swam with 20 ft long whale sharks. And of course there's always something going on in La Ventana. Farmer's markets on Thursdays, Spanish lessons on Tuesdays and Saturdays, happy hour at Playa Central every day at 5pm.
Surfing with grey whales near Todos Santos at sunset.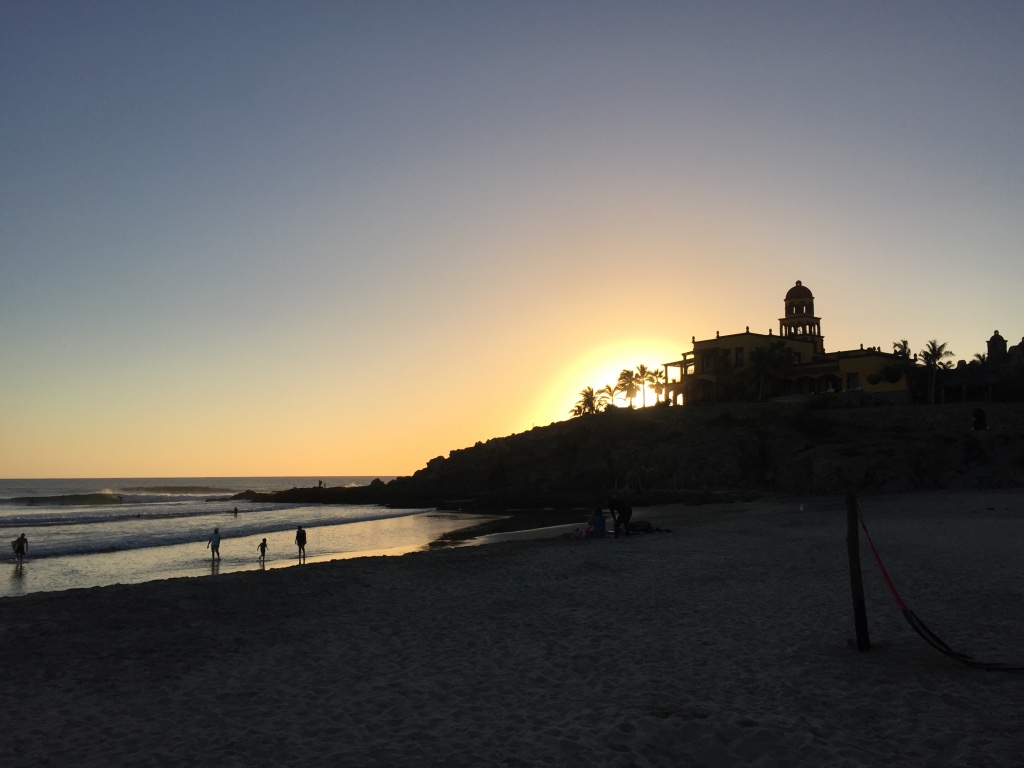 Chillin with a book and a beer at Playa Central on a windless day.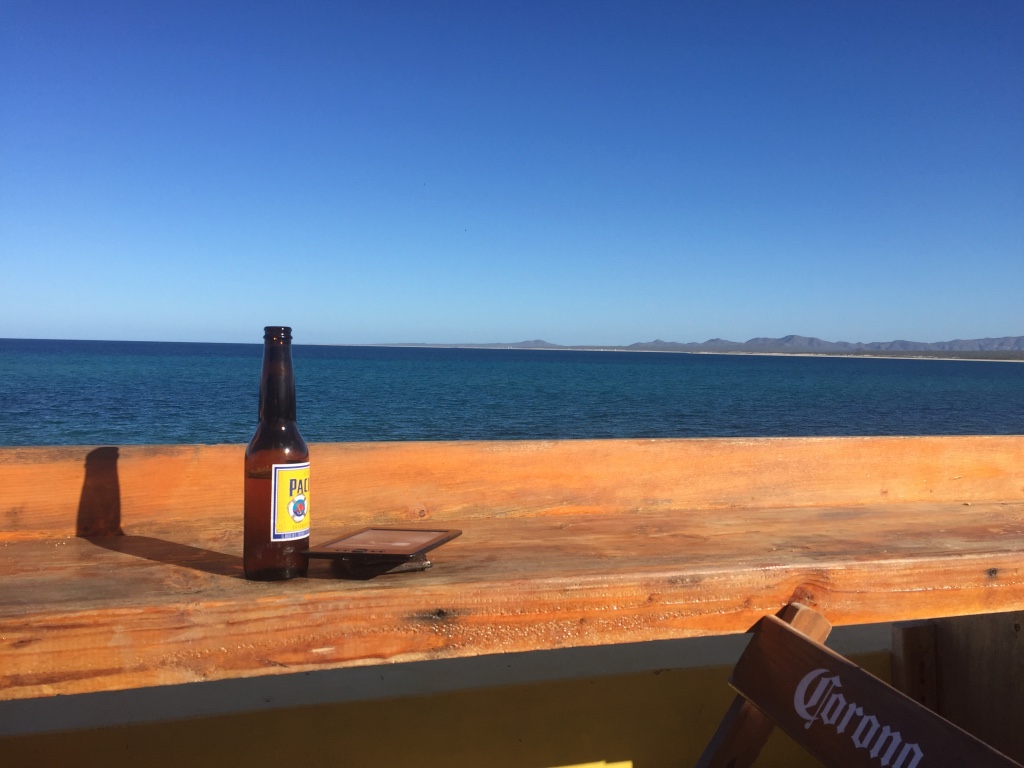 Spanish lessons with a view.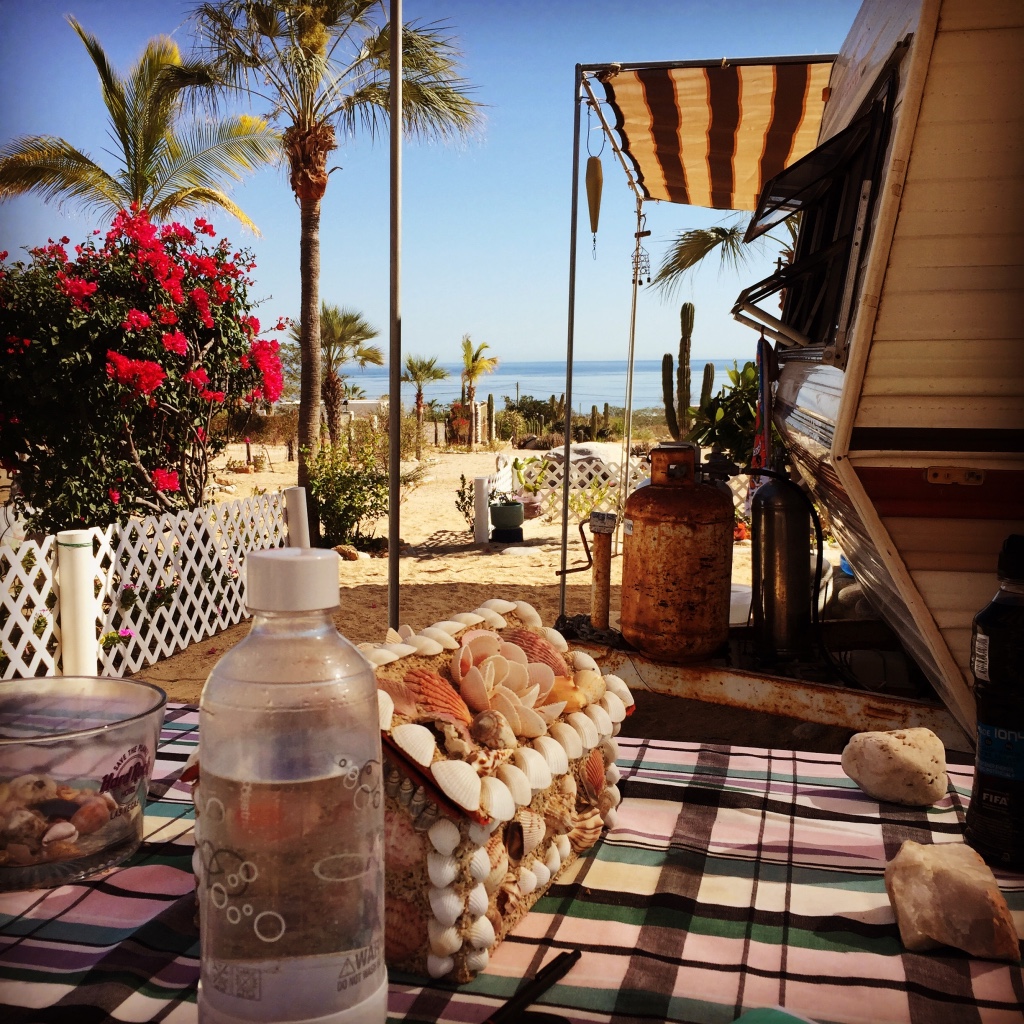 The community aspect of La Ventana was truly amazing. Within a few days you knew everyone who launched at your part of the kite beach and you started noticing communities at others. There's the campground crew, the Playa Central crew, the Baja Joe's crew, etc. Each launch spot had a different group of people and a different vibe. My friends at the campground launch soon began to feel like family. Many folks go back year after year and stay for 4-6 months at a time. I'm trying hard to figure out how to do the same.
Breakfast at the local coffee shop.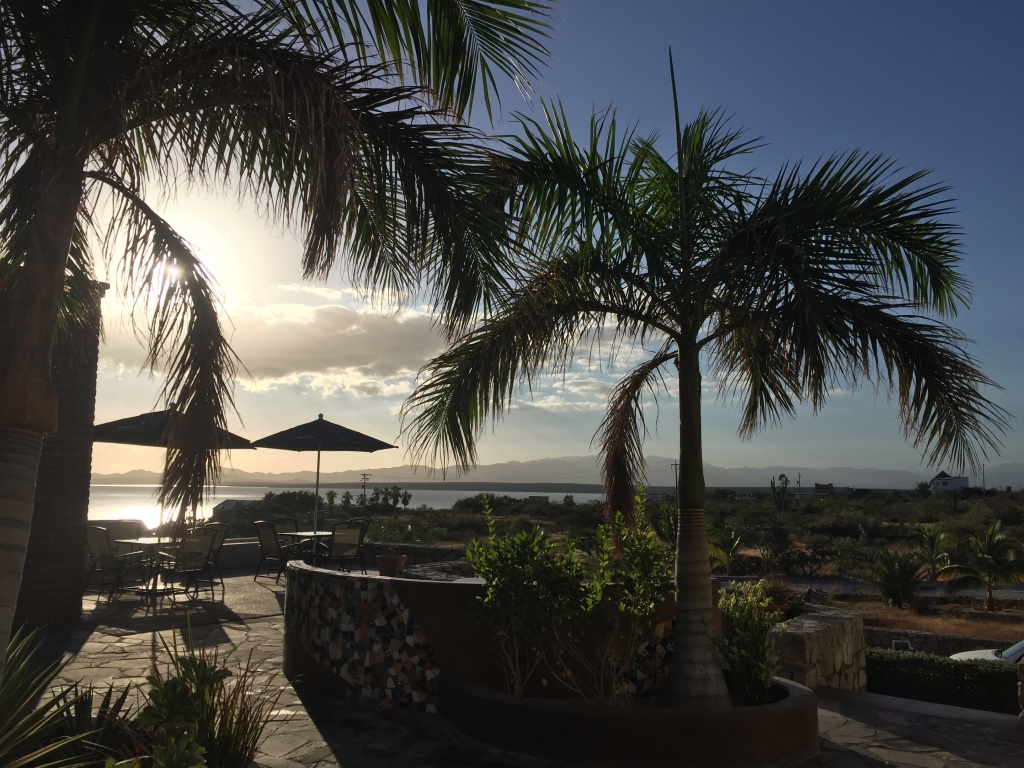 Cow skull art at Playa Central.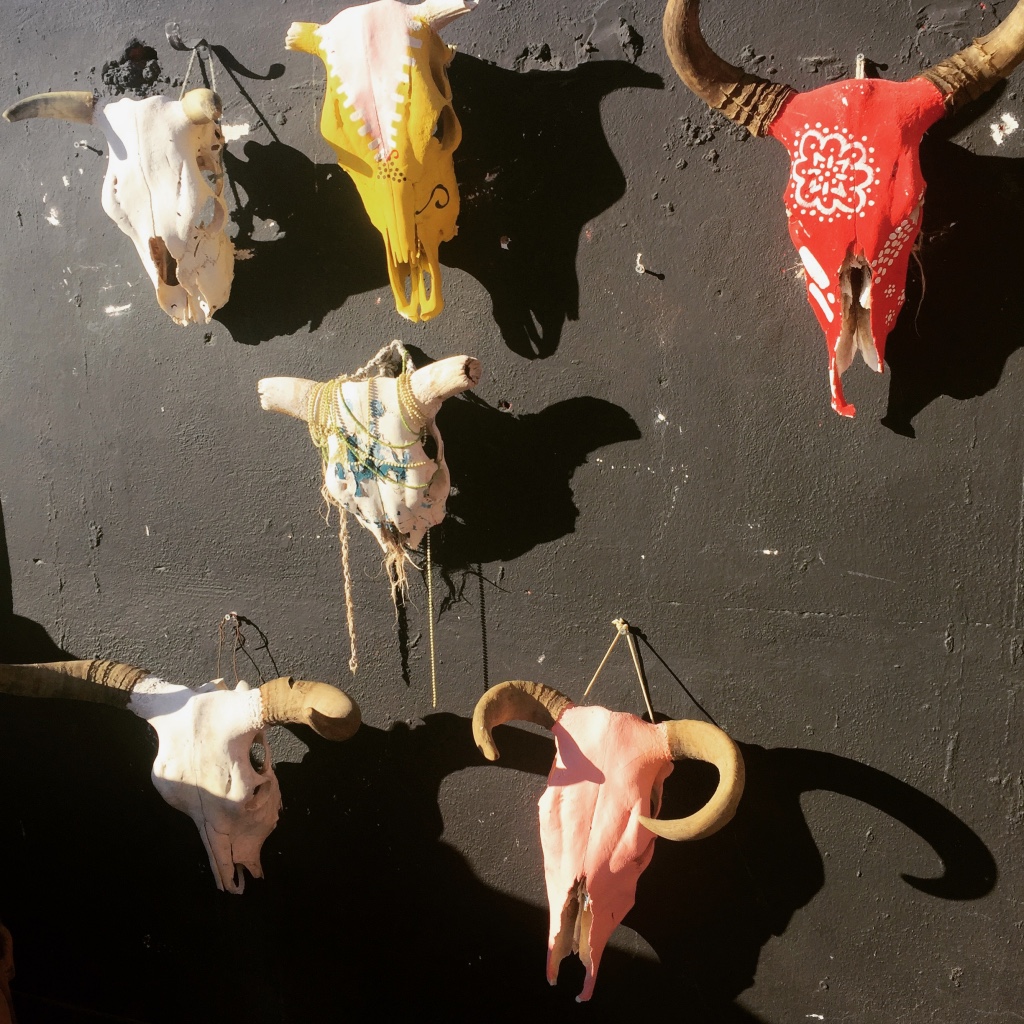 Shallow waters of Balandra beach, near La Paz.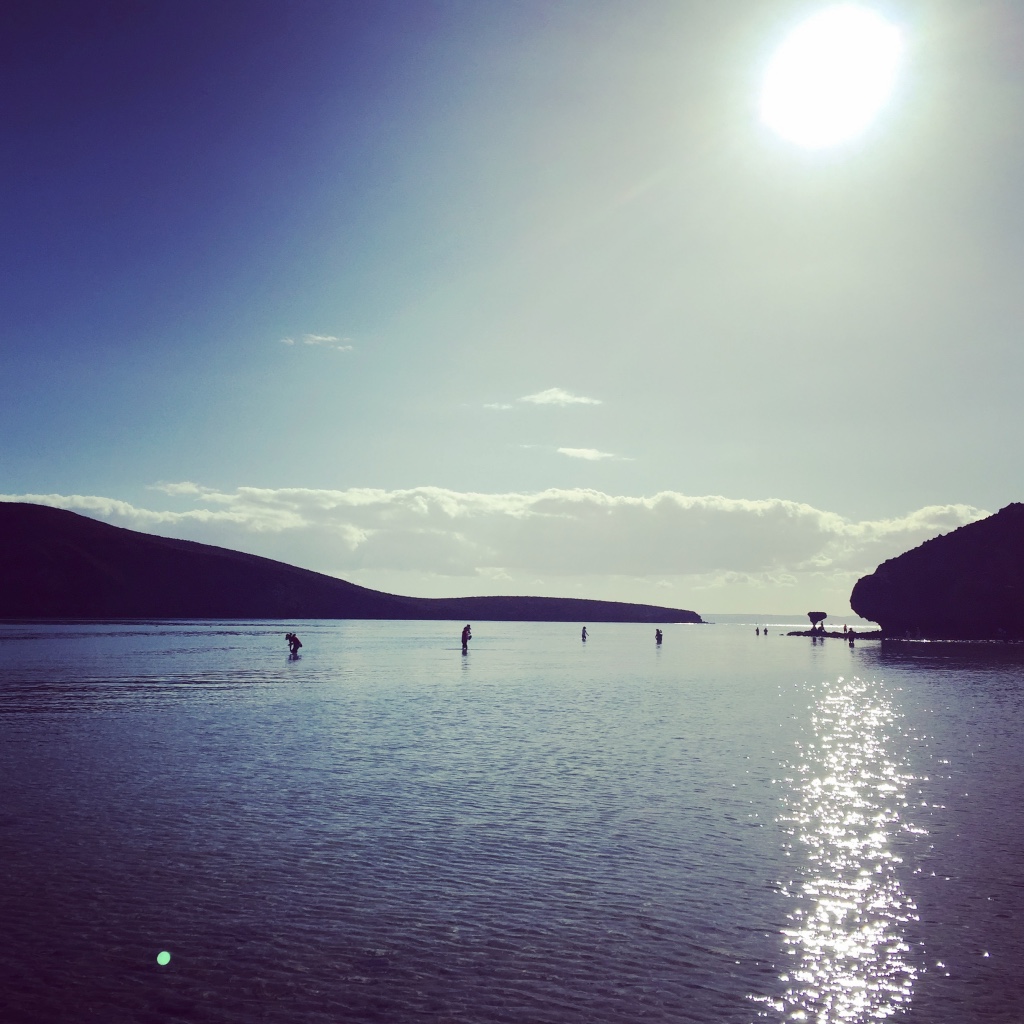 The view out of the back of the van at Playa Santispak.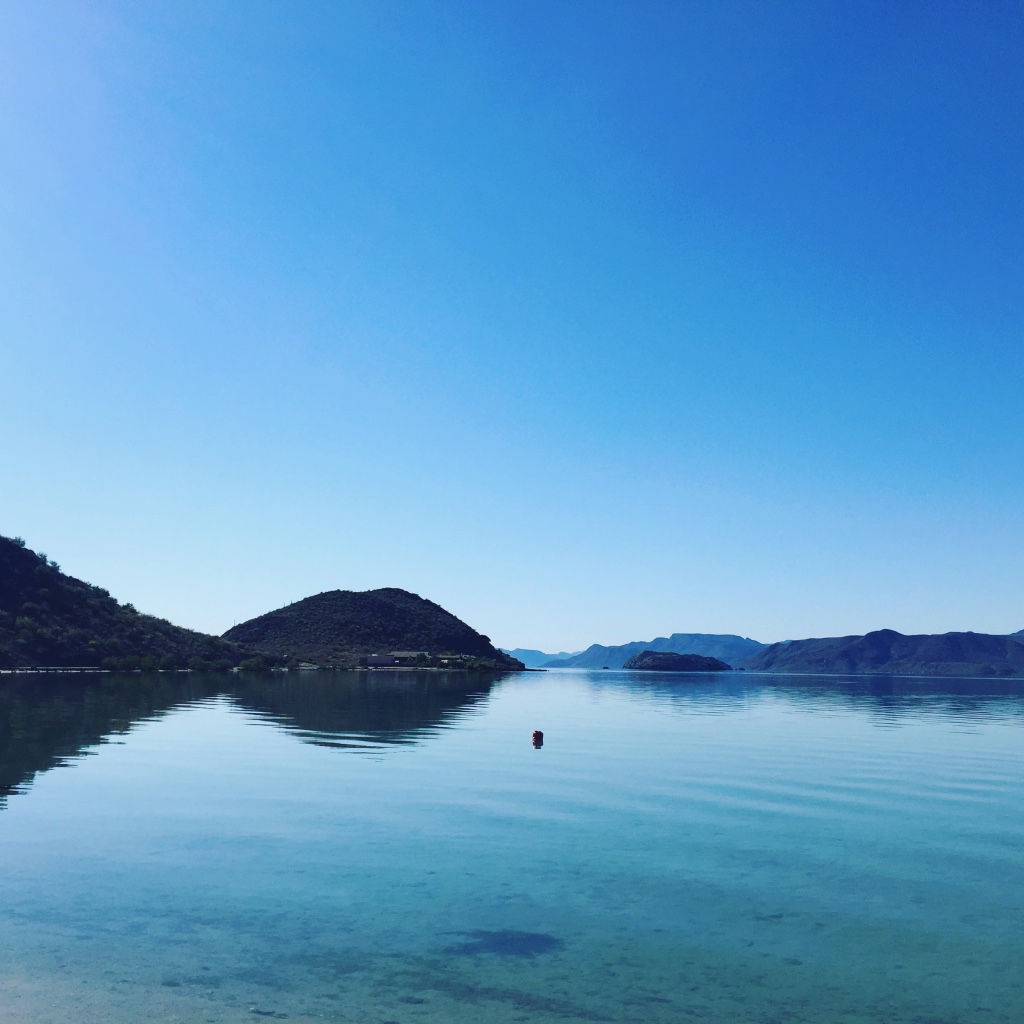 Bahia de Concepcion as seen from the road.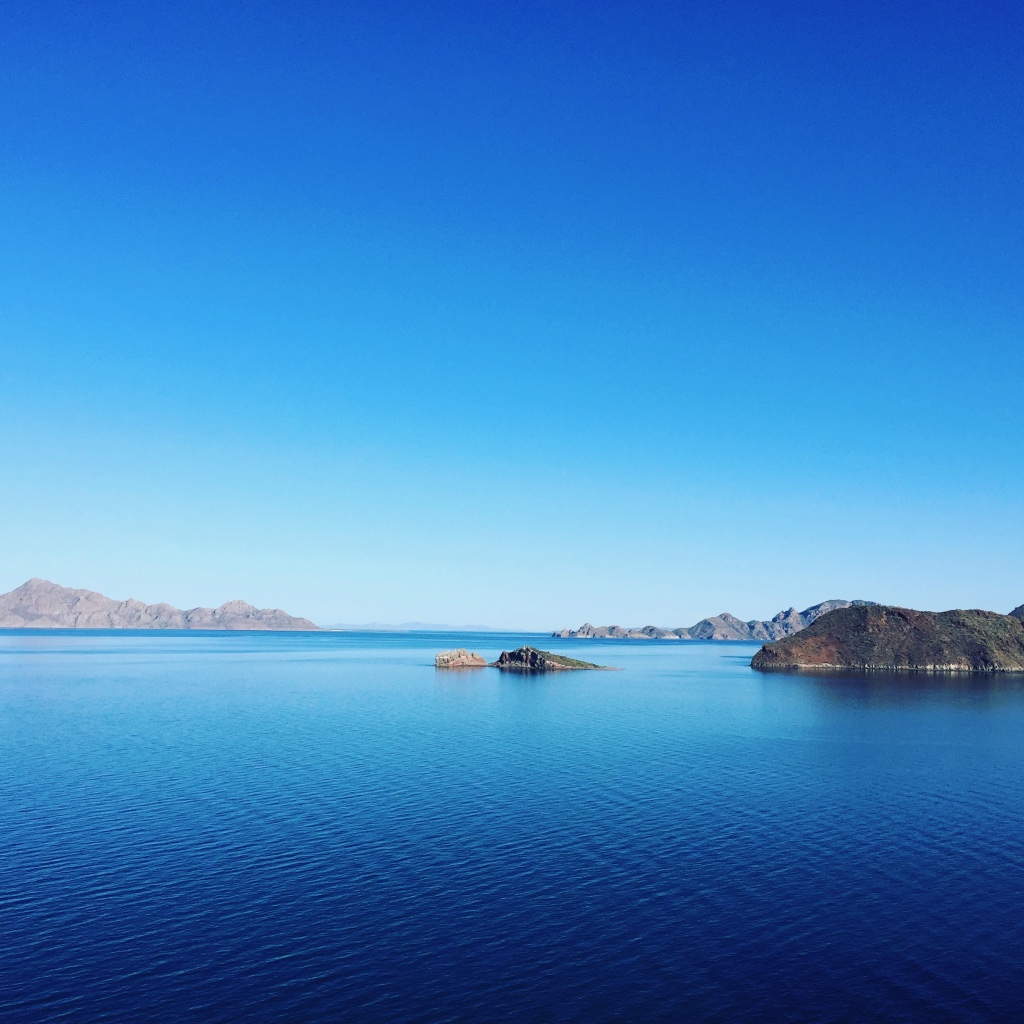 Clouds rolling in just before an El Norte storm front.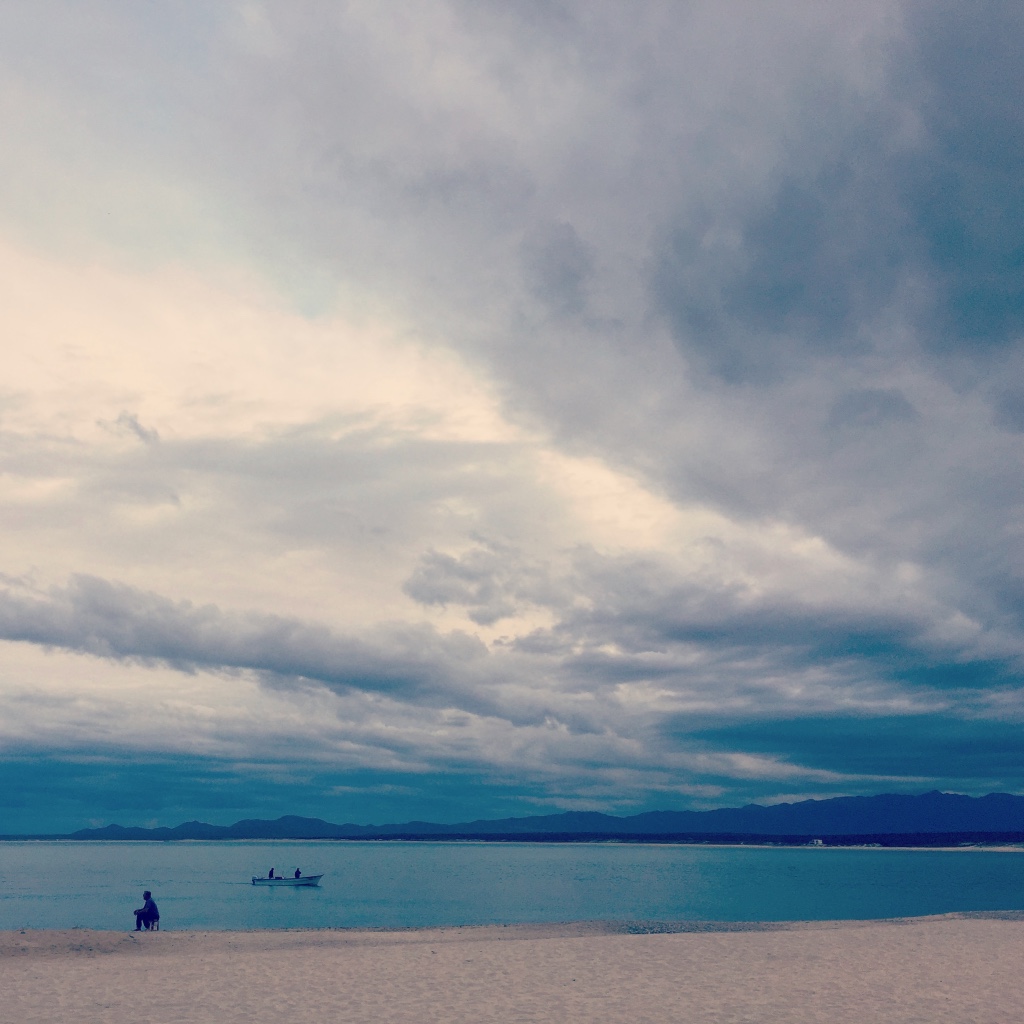 The view from my campsite. My adopted home. I'll be back…